With a gate automation system, you do not have to get out to open the gate when you come home. It will simplify your daily life. Discover in this article all there is to know about this innovative system.
The Advantages
Privilege of Operation
You will no longer have to close and open your gate by yourself to enter or leave your home or when you receive guests. It is a mechanism that is activated by a controlled signal. You can control the opening and closing of your gate remotely from a remote control or your cell phone. This is very advantageous during rainy seasons and in winter.
Better Security
It is difficult to break into this kind of gate. Of course, you won't have to worry about changing the locks. You'll be safe because you won't have to get out of the car to open or close the gate. You can customize this system with motion sensors or by installing code keypads.
Enhancement of Your Property
Having an automated gate will amplify the value of your property.
The disadvantages
High cost
Unlike the traditional manual opening gate, it is more expensive. It will take up more space than a conventional gate because of the system's installation. It requires a high electrical load, depending on the type of automation. It is difficult for you to get in or out if you ever have a power outage or a power surge.
Risk of Poor Aesthetics
With a bad installation, it is likely to notice the automation machine. Call a gate and door automation professional to ensure the aesthetics of your exterior.
The Different Types of Automated Gates
When you're thinking about automating your gate, you may be wondering what kind of gate can be automated.
No matter what type of gate you have or think you have, there are gate automation you should know about.
The Swing Gate
If you choose this type of gate, you should know that there will still be different types of motorization.
The Cylinder Motorization
The gate opens and closes using a rotating screw. It does not enter the electronics; the motor is not very bulky, so you benefit from an aesthetic discretion of the motorization. You will still need a reasonably strong gate. However, the opening and closing of the gate is not fast.
The Motorization With Wheels
This is the simplest of all! You just need to install motorized wheels to your old or new gate. The aesthetics will be respected, and the load absorption is more economical.
The Arm Motorization
It has two types of operation:
Electromechanical
The system will work thanks to mechanical arms like human elbows.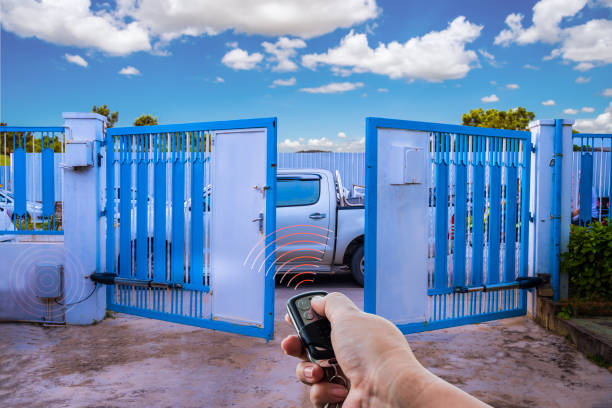 Hydraulic
The device can be activated by remote control or detection, connecting you to your car. It is more resistant and durable, being more potent than the electromechanical model.
The Buried or Semi-buried Motorization
For aesthetics, the motors are the least perceived. Either the device is totally buried or semi-buried. It can be used on medium or heavy-weight gates.
Sliding Gates
Sliding gates also have their own automation.
Motorization on Rails
The motor can be installed in the heart of the house or near the gate. It requires little maintenance, yet it is durable and efficient. However, its installation requires a track to guide the gate's wheels.
Self-supporting
Your gate will be above the ground. The operating motor must be with the gate, but should not harm its aesthetics. You will still need to call a gate specialist for maintenance. The latter will be efficient and fast.