Carpentry is a tradition, and those who are properly trained are proud to be a part of it. The art of carpentry requires a laundry list of skills, equipment and training in order to carry out some of the more complex woodworking jobs, so it's essential you work with the best.
Because of the specialist nature of carpentry, there are a host of courses and apprenticeships that a professional carpenter should have completed in order to both adeptly carry out the job at hand and to highlight their accreditation to prospective customers. If you are adding any woodwork to your home, whether structural or aesthetic, chances are that you will need a carpenter. Carpenters are the wood specialists and they will ensure that all woodwork is sturdy, long lasting, and that it looks beautiful. If you need a carpenter, here is our guide to help you get the very best one that you can. Yes, at times it's good to do it yourself – DIY but at other times one needs an expert who will provide quality products. This is where one considers hiring a qualified carpenter to do the job. Such a professional has the expertise needed to provide quality timber and lumber work. If you need to hire a carpenter, here is how to select the best.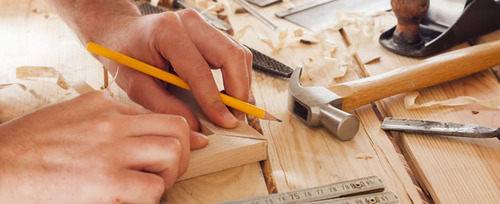 Know What Type of Carpenter You Need
While all carpenters work with wood in some way or another, it may surprise you to know that there are actually different types of carpenters that specialise in different things. For example, a rough carpenter does things such as framing, formwork and other structural work, a finish carpenter is one that specialises in moulding and trim, decking and other jobs that need to look good aesthetically, while a repair carpenter is one that specialises in repairing woodwork.
Always Check the Credentials
When it comes to choosing a carpenter, you want to make sure that they are appropriately qualified, licensed and insured. Do not be afraid to ask for proof of any of these – a good carpenter will happily show you documentation showing that they are up to date on everything. Also, don't be afraid to ask for references or to see examples of their previous work. Call the references and ask if they were happy with how the work was completed. Finally, make sure that your carpenter is experienced in the type of work that you need them to do.
Check Out the Costs Involved
It doesn't matter how small or large your job is, you should always make sure that you obtain quotes from different carpenters before you choose one. So that your quotes can be accurately compared to each other, you should ask each carpenter to quote on exactly the same thing. That is, the quotes should include labour, the cost of materials (make sure the materials are the same or similar), and anything else that is needed.
It should be pointed out that it is not always the best idea to opt for the cheapest quote when hiring a carpenter. While price is obviously an important consideration, especially for larger or more specialised jobs, it is just as important to choose a carpenter that does high quality work, using high quality materials. After all, it can actually be cheaper to pick a more expensive quote and get better work done than to get a cheaper quote and have to have the work redone down the track.
Look at Their Availability
Something else that you will have to look at when choosing a carpenter is their availability. You want them to be able to complete your job in a reasonable timeframe. There is no point in hiring a carpenter if you need a job done within a couple of weeks and they can't even get to you in a month's time. Remember, that carpentry work can often cause inconvenience within the home and you will want to minimise this as much as possible. Also make sure that your carpenter is reliable and punctual. There is nothing worse than waiting for your carpenter to show up, especially if you have other tradespeople that need to come in after them.
Here at Elite Outdoor Improvements, they pride ourselves on offering only the best carpentry and joinery services to our customers. Operating throughout Melbourne western suburbs for over 30 years, they have helped our customers achieve their dream home with their expertise. Offering everything from external wooden door and sash window installation to bespoke conservatories and orangery extensions, their team of passionate experts are on hand to assist you. If you're in need of the best joinery work throughout Melbourne western suburbs then look no further than Elite Outdoor Improvements. For more information on their extensive range of services, visit their website you will be pleased with the wide range of services they provide.