While forays were made in the past, to say that today South Indian cinema has lured viewers across India would be overstating the case. Add their ground-breaking actions, intense acting and unanticipated plot twists and one can safely say that southern cinema has finally breached regional barriers.
People are also fascinated by their depiction of family values, cultures and unifying heritage which are often showcased through a home decorated and designed in traditional South Indian style.
This article is for all those fans who want to replicate the same architecture and décor of traditional south Indian homes.
Colors
The color palette of a traditional South Indian home leans more towards earthen shades. The walls of each room are draped with subtle hues of terracotta, brown, beige, tan, yellows and creams to encompass South Indian roots. Shades of blue, red and green are also popular as they blend nicely with the organic color scheme and make the perfect bold statement.
However, for ceilings, traditional South Indian households always went for white.
Kolam Patterns
Originally born as a ritual pattern in Tamil Nadu, a kolam (also known as a muggu) is a type of rangoli that's usually passed on from generation to generation. This geometric pattern of lines, curves and loops that are drawn using rice flour or chalk powder are blended on walls.
Flooring
To add an exquisite feature to the interiors, hand painted tiles were used for the flooring. Even if your apartment's theme is modern, you can replicate this look by changing the flooring in a small area, such as the entrance lobby, a balcony, or a terrace. When selecting tiles, keep in mind that hand painted tiles typically use natural or organic colors that fades when exposed to sunlight and rain. To achieve the same effect, choose regular tiles with a traditional print.
Lamps (Nilavilakku)
Nilavilakku, also known as "kuthuvilakku" or "thookkuvilakku" is a traditional brass lamp commonly used in Tamil Nadu. These auspicious lamps are placed in religious spaces of a house, but can also be used as primary showpieces in modern households.
Ornamental Doors
Besides lamps and kolam patterns, the design of the main door is another traditional element of a South Indian house décor.
Entrance doors are beautifully carved so as to create a good impression. This tradition can still be followed today by replacing your entrance door with a thick timber-made one. If there's a specific restriction on the type of door you use for the entrance, you can still choose a royally carved custom-designed door in teak for your pooja room entrance. These types of doors are said to radiate a stunning touch of tradition to your modern space.
Paintings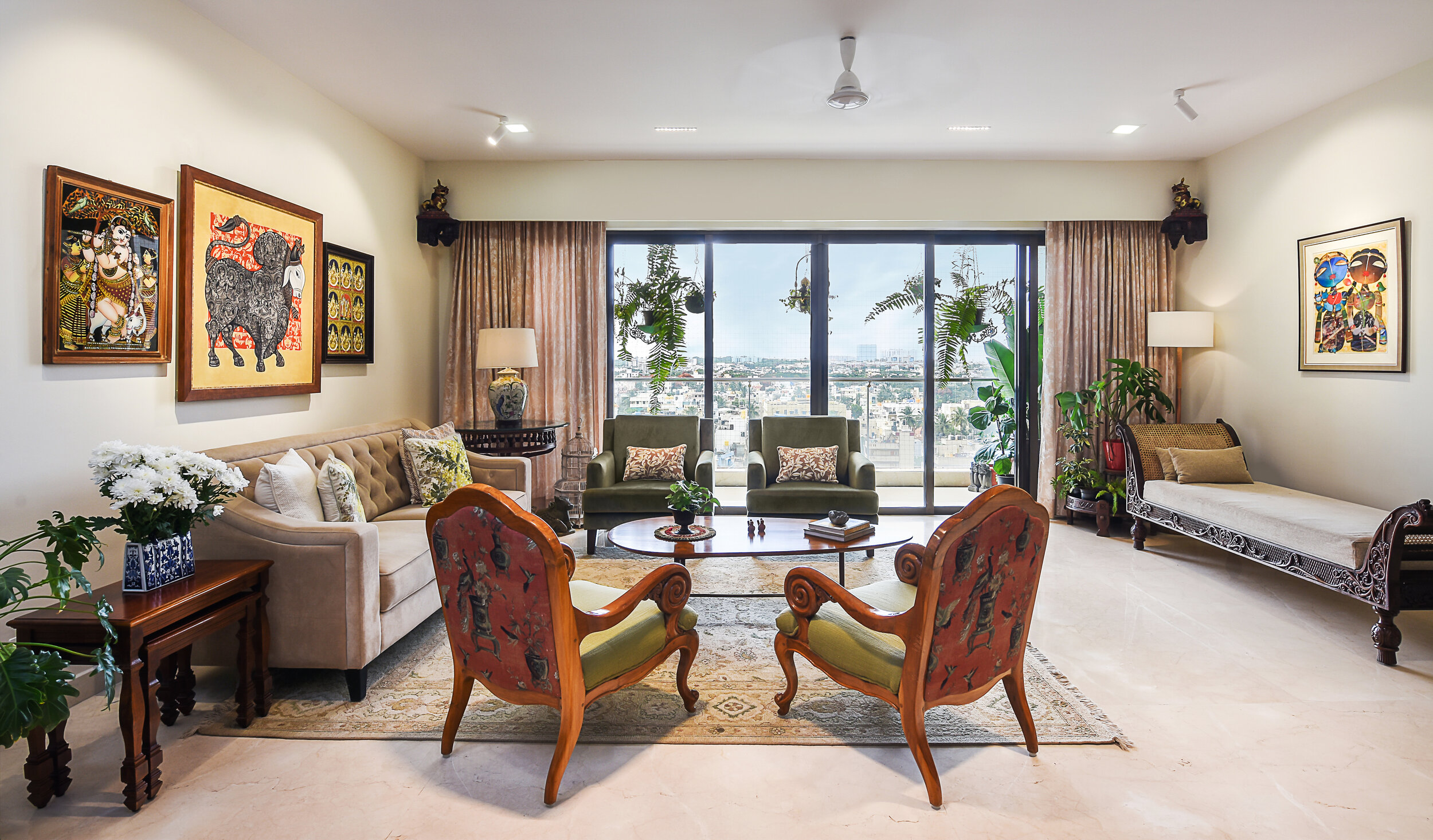 Modern homes in Tamil Nadu are every bit in line with contemporary design trends, but they are also able to adeptly balance the aesthetics with the touch of traditional South Indian elegance that comes from artwork and paintings.
Most of the time, the theme of these paintings are Indian mythology, religion and traditions. These paintings add a unique and traditional charm to a South Indian house.
Jars (Bharanis)
Bharanis are huge jars that were used to store pickles. It's truly surprising how these jars are now being used as décor items.
Swings (Oonjal)
When talking about South Indian home décor, we cannot forget the swing, which represents more than just a functional type of seating. In a Southern Indian household, an oonjal is a classical piece that embellishes a traditional space.
Brass Items
To add a traditional South Indian vibe to your home, use a variety of brass items. An urli, which is a flat brass pot, is perhaps the most well-known of these. You can put it at the front door, fill it with water, and float candles or flowers in it to greet guests. Similarly, old brass pots or vessels can be used to hold indoor plants. Medicines can be stored in brass boxes, which can be placed on the sideboard in your dining room for easy access.