According to statistics, there are more than 5 million people with reduced mobility in France. These figures include both seniors and disabled people. Like any individual, they deserve to live in a home adapted to their needs. In the interest of comfort and hygiene, an exceptional bathroom should be made available.
The Global Layout of the PRM Bathroom
To successfully design a PRM bathroom, several parameters must be considered: the size of the door, the bathroom furniture to be installed, and the variety of accessories.
The PRM Bathroom Door
A person in a wheelchair needs a door that is wide enough to fit through. Indeed, standard doors (73 cm) are not adapted to the passage of a wheelchair. A door should be at least 90 cm wide or even wider to allow easier access and maneuvering. Avoid using a threshold as it can be an obstacle. Also, if your bathroom is small, it is better to choose a sliding door instead of a swinging one.
The Sanitary Equipment in a PRM Bathroom
A Bathtub or a Shower Cubicle
To guarantee the safety of the person with reduced mobility, it is necessary to choose between a bathtub and a shower. If you prefer the shower, the Italian model is ideal. Without steps, it promises easy access. On the other hand, if you are more interested in the bathtub, choose the model with a glass door and a watertight seal. Also, make sure it has no steps. Consider a shower seat with suction cups or folding chairs and grab bars when installing a shower.
A Toilet
Installing a PRM toilet requires the respect of a few rules to meet the needs of the person with reduced mobility. First of all, installing a door opening towards the outside with a turning circle of 1,70 m minimum is necessary. In addition, the toilet bowl must be raised with a booster seat to prevent a possible fall. A maximum height of 50 cm is required. You will find toilet bowls with variable heights with or without armrests on the market. Suspended or fixed, equipped or not with an electrical system, the choice is very wide.
The flush must be easy to reach and handle, and to optimize the safety of the person with reduced mobility; it is recommended to install grab bars near the toilet.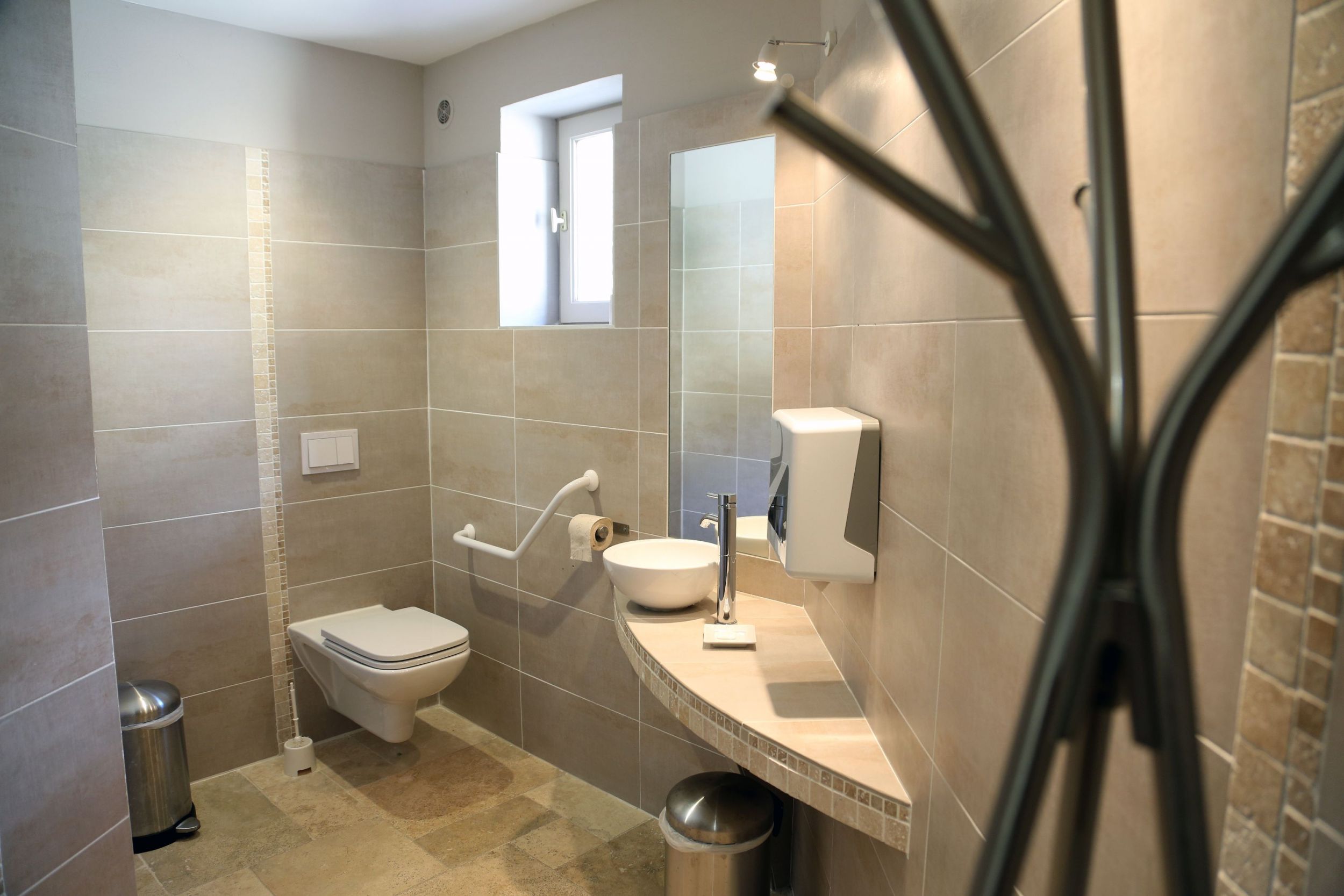 A Washbasin
A free-standing ergonomic sink should be installed for people in wheelchairs or those who cannot stand for long periods. These allow them to stand upright in complete peace of mind. The person will be able to sit down without being disturbed by the column. The minimum height required is 67 cm. For people who can stand, install grab bars on each side of the sink.
Equip the washbasin with an anti-scald mixer tap or an optoelectronic mixer tap that switches on automatically when the hands pass over it.
Other Useful Accessories
A Seat, Chair, Board, or Bath Elevator
One of these accessories must be installed if you wish to adapt your old bathtub to the person's needs with reduced mobility. It will allow the person to enjoy the bath while sitting down.
The Wall or Shower Screen
If the person must be assisted during their bathing, it is necessary to have shower enclosures installed at mid-height. These should be between 75 and 90 cm to avoid water projections. In addition, curtains should be installed to prevent flooding the bathroom when another person takes a bath.
A Shower Tray, a Shower Mat and a Non-slip Floor Covering
A person with limited mobility can lose their balance and easily slip. Therefore, installing a special non-slip shower tray (with a barefoot slip rating of 24). Likewise, provide non-slip tiles and a non-slip shower mat.
Subsidies for Renovation Work
When fitting out a PRM bathroom, you can obtain grants such as
– the tax credit of 25% of the amount spent;
– the benefit of the compensation of the handicap;
– subsidies from the Agence Nationale pour l'Amélioration de l'Habitat (ANAH).