Bathrooms are no longer the forgotten corner of a house. More and more attention is paid to its decoration to achieve modern bathrooms and where we feel comfortable. It does not matter if they are small or large bathrooms; it is always possible to make this space a place with style. Even the smallest detail is designed, but the protagonists are still the bathroom furniture, the mirrors, the washbasin, and the shower trays. Bathrooms no longer have to be boring. There are many finishing options, and more and more are being experimented with all its components. Faucets, screens, showers, bathtubs, mirrors, lighting, floors, tiles… anyone can be an option to try new ideas that we did not think of before for a bathroom. Close to nature and sustainable with a personal touch. That's how many people dream of decorating their bathrooms this year, at least if you are to believe the designers behind all the bathroom innovations. Whether it is furniture or the smallest details, everything is designed to be neat, smart, and long-lasting in the new decade's bathroom. Get inspired with these bathroom renovation ideas. Small bathrooms are no longer an excuse; anyone can be modern and stylish, be it more daring or traditional.
Includes Decoration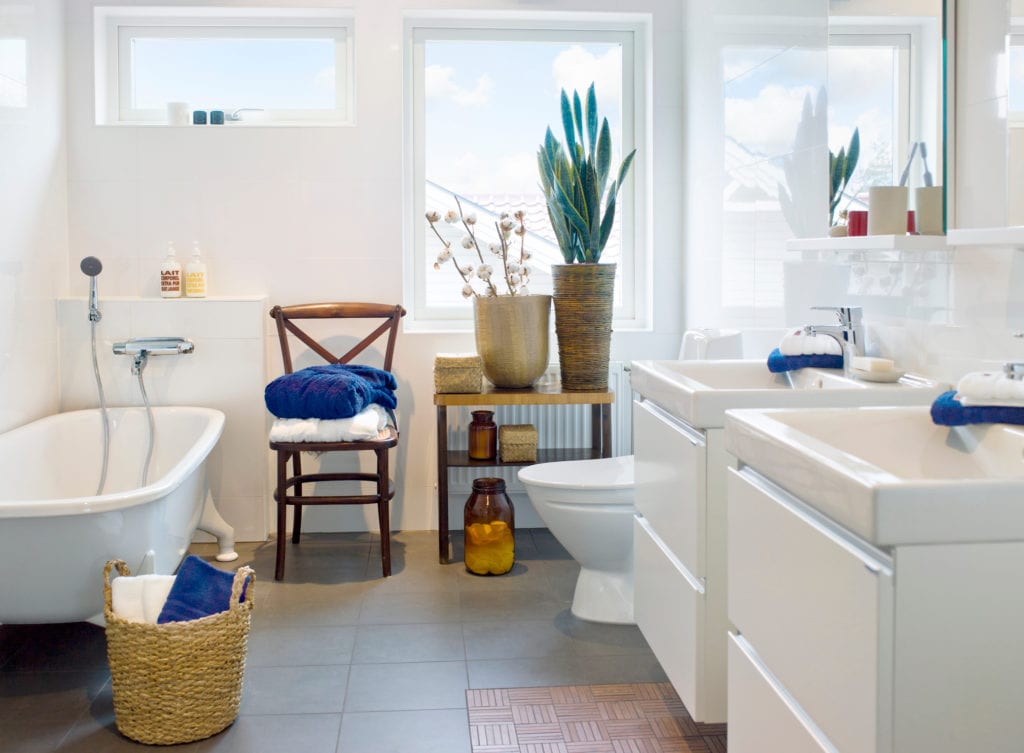 The bathrooms are no longer a space for passage. You can create a room in which to be comfortable and in harmony. That is why you should include decoration details, such as rugs, flowers, or stools. Large decorative mirrors can help you begin this process. For all your bathroom accessories in Fort Lauderdale, get in touch with Milobath & Accessories.
Look for Good Lighting
A fundamental element in bathrooms is lighting. Bathrooms are usually small, so the light must be correct. There are bathroom fixtures in a variety of shapes, but also, if you can get natural light, it will be perfect.
Choose The Shower Well
Today, the vast majority of bathrooms have a shower instead of a bathtub. In addition, due to their size, they are one of the things that stand out the most in them. It is important to choose the shower tray well and the screen and the wall covering. The tap is another element to play with, modifying its color or finish. 
The Coating Matters
Wall cladding can be the key to a modern bathroom. In this case, with the walls, ceiling, and furniture covered in imitation cork, a totally original bathroom is created.
Rustic Style
If you prefer your bathroom to be more rustic, you can also do it in a modern way, as in this one. The stone wall and bathtub give it that traditional touch, while the design of the furniture and the large mirrors give it the modern touch. 
Mix Materials
This modern bathroom shows that using various materials and colors can also work. The black that predominates in the tiles and the shower and furniture contrasts with the wood of an area of ​​the floor and the ceiling beams. 
Bathtubs Succeed
Bathtubs add that elegant touch to modern bathrooms. There are many shapes and materials, such as this one made of stone with an original silver tap. Also, think that you will no longer need to buy a bathtub for your baby if you include one in your bathroom. 
Play With Shower Screens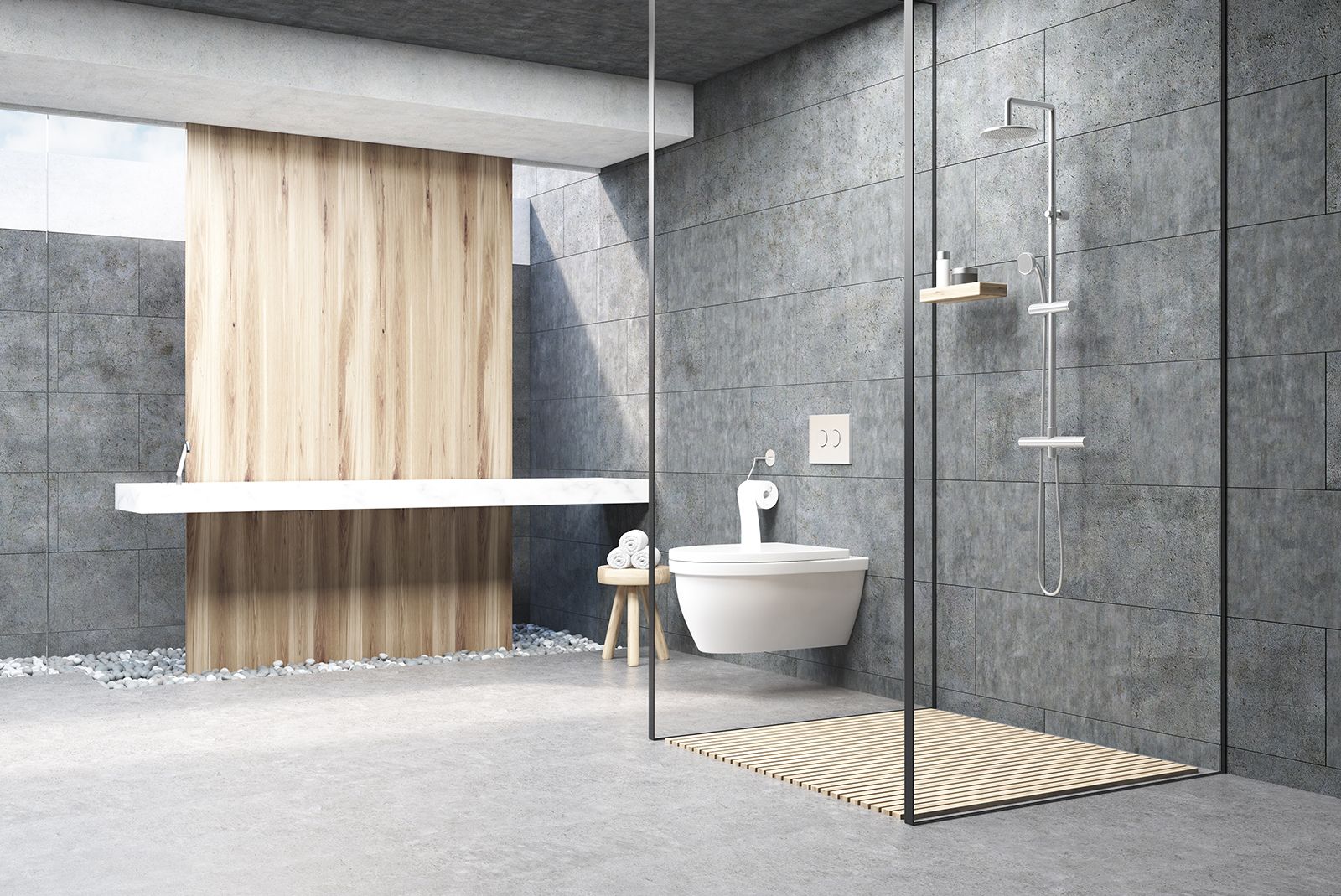 We are used to seeing transparent or opaque shower screens, but there are many options to stand out. In case your bathroom has a shower, the screen can give it that special touch. These translucent black wooden frames make this bathroom an example of originality. 
Different Floors
Floors may seem like the least essential part of bathrooms. Nothing is further from reality. A vinyl floor, a laminate floor, or an imitation wood floor can create a totally different and original bathroom. 
Yes, To The Views
If you have the possibility, include large windows that allow you to see the landscape that you have nearby. No more small closed bathrooms that don't let in light. Imagine being in this bathtub, in the sunlight, looking through the large mirrors at nature outside.
Close To Nature
We are drawn to the longing for nature, which is evident in bathroom fittings, often made of wood, stone, and other materials that give a down-to-earth feeling. The natural materials are easy to add as long-lasting elements in the bathroom decor, regardless of whether you want to make it big or small.
Sustainable
There is something of an eco-revolution in our homes. More and more people choose more environmentally friendly alternatives, and the range is slowly but surely increasing. Reusable tops, recyclable sinks, water-efficient showers, and washbasin mixers, as well as organic skin and hair care, are just a few examples of news for the bathroom – and there are likely to be more. 
Blackness
The metals in the bathroom should last a long time, making most choices timeless, as long as you choose what you like and enjoy. Every year, both classic chrome and luxurious brass are among the favorites, but this year it is the matte, black details that stand out a little extra. The black details give a modern feeling in the bathroom and go well with most interior design styles.
Clean Lines
Like the previous trends, the shapes are following the same path this year. The lines, both round and modern straight, are clean and easy to match with other bathroom fittings. The solid interior, in particular, has a more timeless expression, while smaller details give more space for different shapes, colors, and materials. Clean lines and a sense of nature – this is how we want to decorate our bathrooms this year.