If you have a cramped bathroom, many solutions exist to make it a little corner of paradise! You can invest a little more in materials and be bold for a small room, so it's a great advantage.
How to take advantage of every square centimetre without cutting back on aesthetics? Here are some tips for designing a small bathroom.
Focus on the layout of the bathroom.
Renovation or creation starts with choosing the bathtub, shower, sink, and possibly the toilet while planning the layout.
Once the layout is done, everything else is just a matter of aesthetics and tips to optimize the space without losing comfort: determine the dominant colour and style, the theme you want, and the rest will follow since you will have your guideline to choose the tiles, flooring, paints, furniture and accessories.
Tip: write down your ideas, so you don't forget them and have a clear vision of your needs and desires.
Choosing the bathtub and shower for your small bathroom.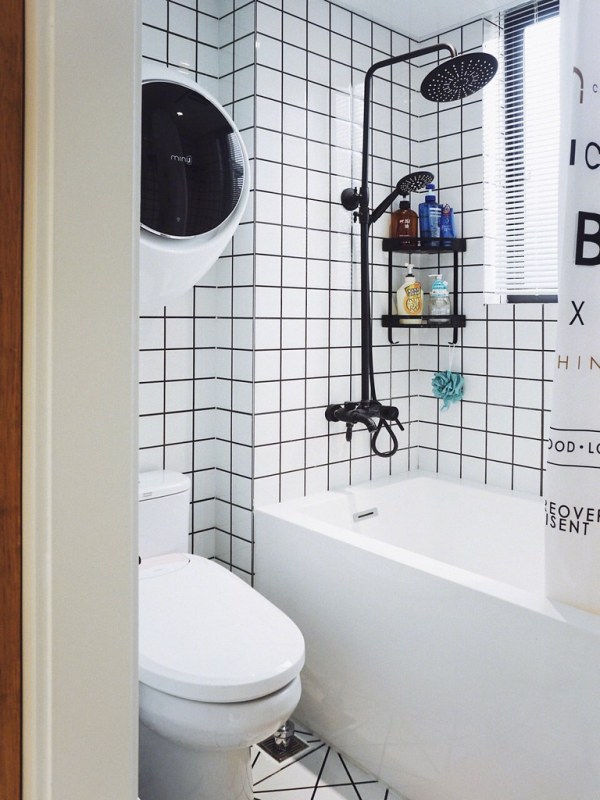 The bathtub and shower are the central elements of your bathroom. Opt for the compact models known as "space-saving", mini bathtubs and square bathtubs: they can be placed in a corner or make the room's width. Add a protective glass panel to have a shower; otherwise, a curtain in a treated fabric will suit and add a decorative touch to the whole. Bathtubs usually have their apron. If not, you can do so or buy ready-made panelling and even integrate storage.
Some tips
You can go straight for the shower, but houses with a bathtub sell better and are more practical for children. Sometimes, there is only the shower solution to optimize space. In this case, the Italian shower or the flat tray with glass walls give a larger room. Opt for a wall-mounted bathtub faucet when possible. Another option, ideal for tiny or spare bathrooms, is installing a bathtub/shower and associated sink combination, a sober and refined three-in-one.
Find the right sink for your needs.
Manufacturers offer a wide range of smaller sinks. Choose yours according to your needs and the style of your bathroom. If you need to install your washing machine in the bathroom, there are sinks on top (the siphon is offset to the back, freeing up the space below). In the same concept, the vanity unit (a basin and a worktop placed on top of the washing machine) is practical and aesthetic, the space saver par excellence. I prefer compact and suspended washbasins, which come with open shelves or a small cabinet with door(s). For the whole family, choose a floor-standing unit with a built-in sink, a bar for hanging towels and washcloths, or a compact double basin, with or without a unit.
Install a compact toilet.
Whether free-standing or suspended, the toilet must be compact.
Free-standing toilet
The compact standing toilet is also sold with a seat. You can raise it for increased accessibility, but it is less practical for children in this case. Its advantage is an easy installation in renovation since it does not require significant work.
Wall-hung toilet
The wall-hung toilet is the best in terms of space-saving and being aesthetic, ergonomic and easy to maintain. It does not have a separate tank, and it is provided with a seat. The major constraint is the installation, which must be rigorous. Don't forget a clearance of at least 60 to 65 cm (70 cm in front of a water point) and 20 to 25 cm on the sides.
Dress the walls and floor of your small bathroom.
The choice of colours depends on your tastes and the style of the bathroom, but you can apply a few rules.
Floors
Remember that large formats and uniform coverings, with few or no joints, offer a clearer visual perspective: large tiles, large adhesive slabs, one-piece coverings (such as vinyl), PVC strips, etc., designed for wet rooms. But it is possible to choose small formats. In this case, opt for clear paint.
The walls
Note that light-coloured paint and tile with more tonal touches (to wake up!) give depth, relief. Rooms that are longer can have the back wall darker than the others to visually "pull" the wall together, while wider spaces can have the two opposite walls widthwise darker than the back wall to produce the same effect.
Accessories to enhance your small bathroom space.
Accessories such as shelves, boxes and other banners can save storage space. Above the sink, place a compact mirror cabinet with a built-in light or a beautiful wall lamp in the bathroom theme. Add one or two shelves in the corner, on a column, others high up, going around the room and still on the side of the faucet, in glass, to place the bottles lightly. Arrange banners and boxes to quickly store and deposit what does not fit in the cupboards. If possible, replace the old radiator with an extra-flat wall-mounted radiator with a towel rack.
Hope the above helps you out. Remember to share your comments below.
Read more:
Cube House: Minimalist Form And Elaborate Design;
What Exactly Is a Designer Bathroom?