One of the essential elements of a living room is the coffee table. In this article, we will focus on several coffee table designs that can be the focal point of the room. Regardless of the practical utility of the coffee table, whether you want to enjoy your coffee or place various objects such as a remote control, these coffee tables come in different designs, so you can choose the one that best suits your style.
With the advent of cafes in Europe, coffee tables became an increasingly popular piece of furniture. Therefore, specially designed tables were created for the enjoyment of relaxing over a cup of tea or coffee. In England, it started with the need for furniture to enjoy the famous English tea, which was already part of people's culture then. In Turkey, the coffee table was inspired by the fact that during the Ottoman Empire, the favorite beverage of the Turks was served on a low table, and in Japan, tea was served on a table with the top as close to the ground as possible.
The coffee table has also evolved in terms of design, keeping the structure of the coffee table but developing it with decorative elements.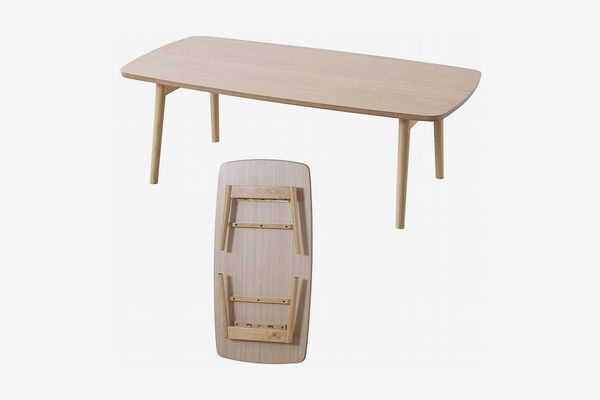 1) Practical Coffee Tables
For those who value practicality over decorativeness, some coffee tables perfectly complement that practicality. For instance, a folding coffee table can be a great option for those interested in the living room's space and its intelligent and efficient use. This furniture is ideal for your needs because you can fold down the coffee table, for example, when friends come to visit or when you are home alone, to save space and create a more cozy atmosphere.
In addition, sets of three coffee tables can be easily stacked to make smart use of space. Furthermore, they can be used in different rooms for different purposes. Available in various models, these sets ensure a unified design without worrying about furniture that doesn't match.
2) Stylish Coffee Tables
For some, the aesthetics and visual impact of furniture are essential. Always look for modern pieces that shine and stand out only with their special design.
If you want a modern look, a glass coffee table is a great choice. Glass is used in trendy furniture, perfect for living rooms with neutral colors emphasizing simple lines and modern geometric patterns.
Choose a luxury model if you want more than a trendy coffee table. The glam style is often used in the home and does not only appear in public spaces where authentic design is desired. A home that shines with sophisticated materials, uniquely designed furnishings, and eclectic layouts is sure to amaze everyone. A gorgeous coffee table blends easily into such an atmosphere.
3) Classic Coffee Table
The classic coffee table, made of natural materials, has a timeless design that will appeal to all lovers of beauty. Inspired by natural materials, enjoy your coffee on a table that looks great in an elegant living room.
For instance, wooden coffee tables are perfect for warm and inviting spaces. Wood blends easily into your decor, is unpretentious, and offers the utmost comfort.
Iron coffee tables are another classic piece of furniture and often have a romantic or rustic design.
Coffee tables are a welcoming addition to any home, completing the usefulness of a space and bringing additional design to a room. Choose a coffee table that suits your needs and style preferences, and enjoy a moment of relaxation with a cup of coffee or tea in a well-stocked living room.
What type of coffee tables do you like? Let us know in the comments below!