Your new or remodeled kitchen will likely be the result of decisions you make in four key areas. They are cabinetry, countertops, appliances, and flooring. To construct a kitchen, you can live with and enjoy for decades, carefully consider the following information.
1. Cabinetry
Material
The selection of cabinets is the cornerstone of your kitchen. Cabinets are the most visible and most used element of your kitchen. Everything else in the kitchen revolves around the cabinets. As with every other element of the kitchen, there is an abundance of materials to choose from. The most popular hardwoods are maple, oak, and cherry. All of the wood cabinets come with staining options which will alter the tones and colors of the wood. Staining will also affect the graining patterns of any species of wood. Because of the nature of wood graining, each piece of cabinetry will bring a unique look to the kitchen. Cabinets are also made of laminated or vinyl coated products which provide both a wood grain and a clean white look. These are durable and easy to clean.
Space
The key to practical kitchen cabinets is storage options. You will always have your basic cabinets and drawers above and below the counter-top, but you can also have an island or bar for more workspace. Innovative storage racks can also be incorporated into the cabinets to hold dinnerware, wine bottles, spices, or larger cooking and cleaning objects.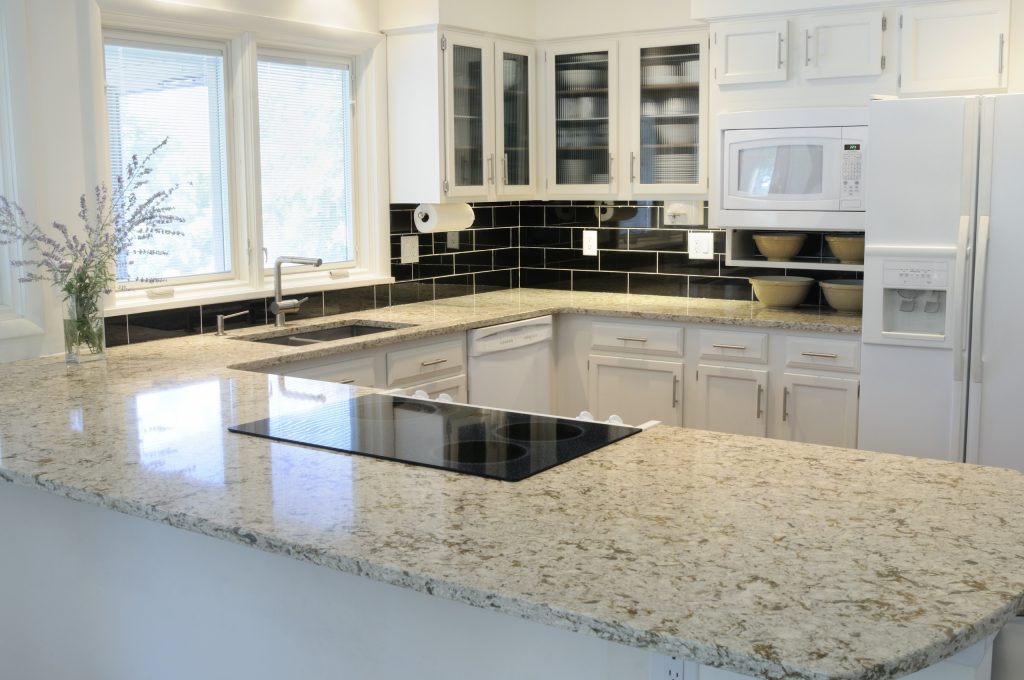 Cabinet Doors
The doors on the cabinets provide the greatest nuances of expression. Cabinet doors do not usually have a plain flat surface (although they can). Doors come in a wide variety of designs and raised panel styles are most popular. They can be very simple or very ornate. Knobs and handles can also be chosen with different designs and styles. Newer options of doors include doors made of aluminum or thermo-foil and can go with any sort of casework whether wood or metal.
Stainless steel cabinet doors have become popular in both commercial kitchens and homes with a contemporary design. This kitchen style provides a modern look combined with easy to clean surfaces and an overall sanitary environment.
2. Countertops
Laminate
Most kitchen countertops are made from laminate materials. This particular choice offers a variety of different looks and is easy to clean. Laminate countertops are made of many layers of synthetic materials covered in a layer of plastic. They are less expensive and lower quality than other solid countertops.
Solid Surface
As its name indicates, this middle-range countertop is made of solid synthetic material rather than layers of filler. Mineral compounds mixed with polyester or resins create a smooth and consistent finish that will appear and function like stone or granite. Chips and scratches can be easily repaired, and this option is easy to keep clean. Solid wood countertops can match the floors and cabinetry in the kitchen as well.
Granite/Stone
Granite countertops are unrivaled in beauty and function. For a luxurious appearance and practical durability, you will want to choose granite. A variety of other stones can be applied in the kitchen countertop, including quartz, slate, limestone, and marble. The advantages to these stone options are their superior durability (scratch and dent resistant), aesthetic appeal, and cleanliness.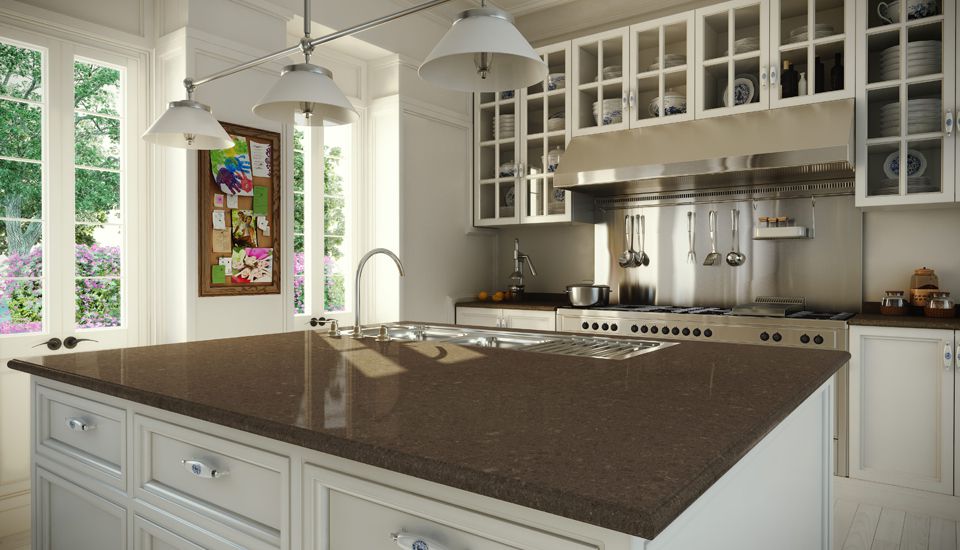 3. Appliances
Appliances do the work in the kitchen. Your selection of refrigerator, oven, dishwasher and accessories like toasters, microwaves and coffeemakers are the tools you will use daily to prepare food for your family. The function and style of each are vital to both a practical and beautiful kitchen.
Samsung has come out with the versatile Quatro Cool Convertible Refrigerator. This refrigerator has two large French style doors on the top and two smaller doors at the bottom, and each of these compartments can become a refrigerator or freezer as needed. If you ever had a colossal cooking campaign, then KitchenAid has produced a quality 30″ cook-top with five burners. While most dishwashers work well, the new Miele G 2002 La Perla surpasses them all with its application of technology. This dishwasher calculates air temperatures for proper drying, opens and closes on timers and uses a Clean Touch Steel finish to resist scratches or fingerprints.
The ingenious features built into modern appliances are truly amazing! The speed and convenience with which our food is stored, prepared, and served wasn't even in the imagination of our parents' generation.
4. Flooring
The kitchen floor should be chosen in light of several considerations: cleaning, comfort, durability, and appearance.
Tile
Ceramic tile is a popular flooring option that you will find in kitchens and bathrooms. Tiles are durable and very easy to keep clean. A variety of color options are also available in tiles, including the more recent mosaic-style tiles. If you intend to spend a lot of time standing in your kitchen, tiles will not be very comfortable. While tiles are very strong, if they are laid improperly or impacted with force the tiles may break depending on their composition.
Wood (Waxed/Polyurethane)
Of all the flooring options, the most natural in production and appearance is wood flooring. As with cabinets, oak and maple are the most common hardwood floors giving a warm and organic feel to the kitchen. All hardwood floors come with a finish (coating) which takes place at the factory or at installation. The wax finish will obviously be slicker and is not intended for high traffic kitchens, although it does give a beautiful shine. A polyurethane finish will protect the wood from nicks and dents and will not be slippery. Wax floors need to be recoated annually, while polyurethane finishes will last for several years and need much less maintenance.
Pergo (laminate)
Another quality flooring option is the best-selling Pergo material. This product is a laminate that replicates beautiful hardwood or tile flooring. Pergo provides a wide variety of options to create many authentic looks without the maintenance required by other materials. With a unique combination of durability and beauty, Pergo provides a wonderful flooring option for your kitchen.
Linoleum
Linoleum is the least expensive choice. All-natural materials (felt, canvas, oil, resin) constitute linoleum flooring. Don't confuse linoleum with vinyl, which is made from synthetic material. Linoleum (like vinyl) comes in rolled sheets and needs to be laid on top of another material, usually plywood. Linoleum is easy to clean and difficult to dent but can be damaged by standing water.
Vinyl
This is the most popular type of flooring because of its low cost, high comfort, and wide variety. Vinyl is a popular choice for families with children, high-traffic kitchens, or high-spill kitchens. These floors are easy to maintain and clean. They are stain-resistant but not stain-proof and may dent when impacted.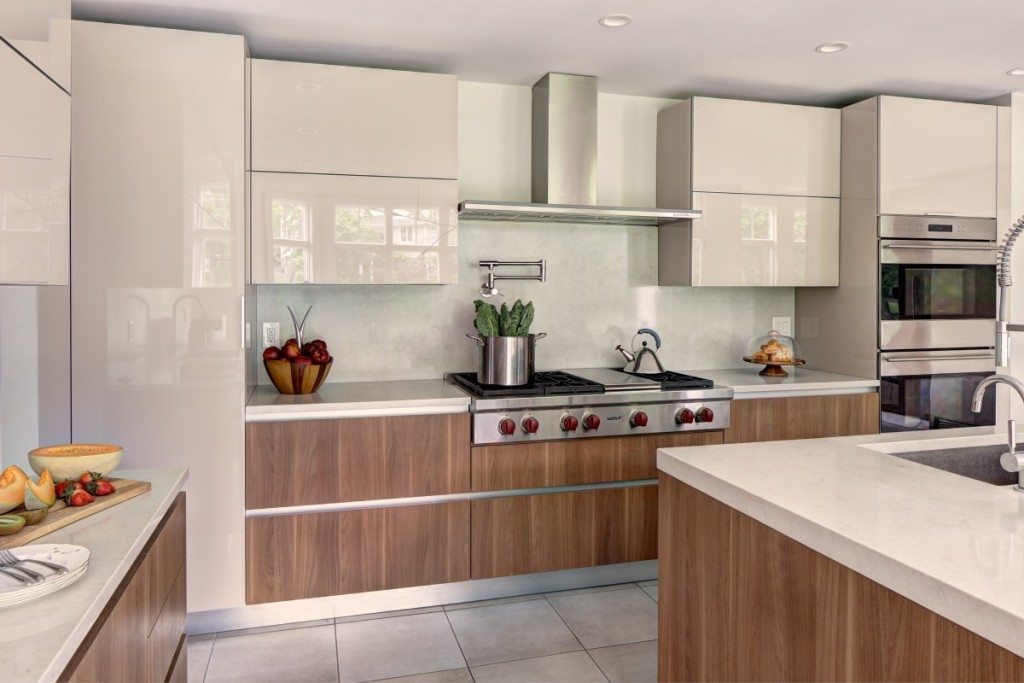 Take Time Designing Your Kitchen
Carefully selecting your cabinets, countertops and appliances and flooring may take some time. Yet, the time you spend researching and designing your kitchen will provide years of enjoyment and add to the value of your home.
Get The Best
Desire Home Deco is the ideal kitchen remodeler that you would want to remodel your kitchen. With innovative designs, they are sure to help you get the best of the materials and deliver a service that is worth every penny. They are based in New York.