Whenever we are decorating or renovating, there is one space that we take for granted and that space is the staircase! We often ignore the fact that stairs are important in our house, that's why sometimes they are the last ones to be renovated. Below are listed some tips that will help you in decorating your staircase!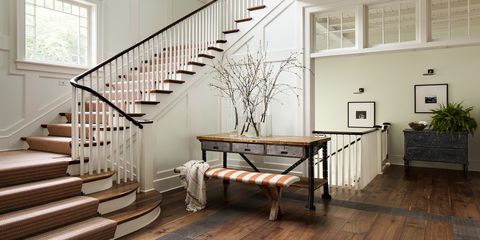 An ombre effect – Start with the darkest color at the bottom and end up with the lightest on the top. You can test some on paint cards to know which color suit your stairs.
Make statement spindles – Create a statement spindles to increase the beauty of your staircase. Extend the beauty of the staircase by involving the handles and spindles. You can finish off the spindles with white color to create more space.
Roll out a carpet – If your staircase gives onto the hallway, then what better welcome than giving your hallway a carpet treatment! Choose a carpet that matches perfectly with the décor and the colors.
Wallpaper it! – If your staircase is looking old, then a wallpapering might be the best solution. Go for bold and graphic designs to keep things neutral elsewhere. With a white background, choose bright colors to accent the décor.
Go with pastels – Instead of using wallpapers, why not paint the staircase pastel in color as it increases the décor. Pastel suits better in a rustic cottage décor.
Spell out name – If you already painted your staircase and still find it dull, then take a stencil and give it a makeover! Spell out each family member's name or just write something that you love.
Matching the walls – Paint the walls with a dark color, then paint the staircase in the same color but pastel. The contrast gives it a soothing look and works well with natural wood flooring and furniture.
Vintage it! – Hanging antique portraits around the staircase helps in creating a vintage look to the whole house. It is also considered as one of the best ways to start a conversation.
Light up the way – If your staircase is in the middle of the room, then lighting it up with a chandelier or DIY lights can just increase the décor of the stairs. Choose a piece that combines beauty and functionality perfectly.
Personal passage – Why not hang in the photos of your closed ones? Display your family history through pictures. It gives a more comfortable and amicable look to the house.
So which one is your favorite?