As we know already that, lighting is important in a house. There are times when we focus too much on decoration and less on lighting that we end up getting a room darker than the others. We tend to make more mistakes when setting the lights for the room. Here are some points to help you avoid these mistakes.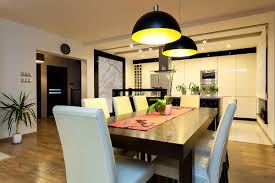 You don't consider where natural light will fall. It is known that natural daylight is the best in a room. Natural light makes it look more spacious.
Focus on where the shadow will fall when the light will be on. Go for horizontal fixture so that it illuminates your face rather than part of your face.
Choose switches that are controllable, be it during the day or night. Go for dimmer switches.
Don't go for the wrong size of the fixture. Choose a chandelier for a large and spacious dining room rather than a mere tube-light.
If you are opting for lamps, then it should be 30 to 36 inches above the kitchen island. Remember the shade should be at shoulder height.
Don't forget to consider the room's paint color. Go for warm colors on the wall as light reflected on it will lighten up the room.
Go for light-saving and energy-saving bulbs.
Don't forget to consult your electrician!