Relaxing on the terrace is always possible, regardless of the season. However, it is unpleasant to stay there for a long time in winter because of the cold. To ensure your comfort, it is essential to install a brazier. It is a heating device designed for outdoor spaces. To install it, follow the tips listed below.
Choose the Type of Brazier That Suits You
The brazier type is defined according to the fuel used for its operation. There are 3 types of braziers:
The wood-fired brazier can appear like a wood fire or a campfire on your deck. This brazier type requires a lot of maintenance and requires you to cut wood. It is available in 3 varieties:
The wood grill is a multi-functional device, ideal for your barbecue parties, as it can serve as a cooking fire and a grill. It is equipped with a grill that attaches above the flaming embers.
The outdoor brazier, which is usually designed as an indoor brazier. It can be portable or built-in.
The homemade brick or stone brazier is very cost-effective because it is do-it-yourself. The stones and bricks used for its installation can be chosen according to your desires and budget.
The propane brazier is more practical than the previous one but takes up a lot of space. It produces a beautiful flame and is often designed with wood, pebbles, rock, or glass effects. There are 3 varieties:
-The propane copper brazier which has a very high melting point. It is incredibly durable but expensive.
-The portable propane brazier is designed to move because it is equipped with light wheels and is easy to carry. It also has a cooking capacity.
-The natural gas brazier is a supplemental heater powered by natural gas.
Choose a Style of Brazier Adapted to Your Taste
As an outdoor fireplace, the brazier is a trend in outdoor design.
If you are a fan of design, choose a cast iron brazier. However, if you are more into contemporary style, a corten steel brazier will be more suitable. And if you are on the side of people looking for authenticity, a terracotta model will do the trick.
Determine the Location of the Brazier
You need to think carefully about the location of your brazier in relation to the patio and garden design. The brazier should be installed on a stable surface to prevent the device from tipping over and on a floor covering that can withstand heat, such as a concrete slab.
Also, place your brazier in a dry and windless area so that it does not fill with water. If possible, have a protective cover installed.
Installing a Brazier
Installing a brazier is easy if it's a mobile brazier because you just have to move it to your deck. This model is ideal for all decks (attached, raised, or suspended).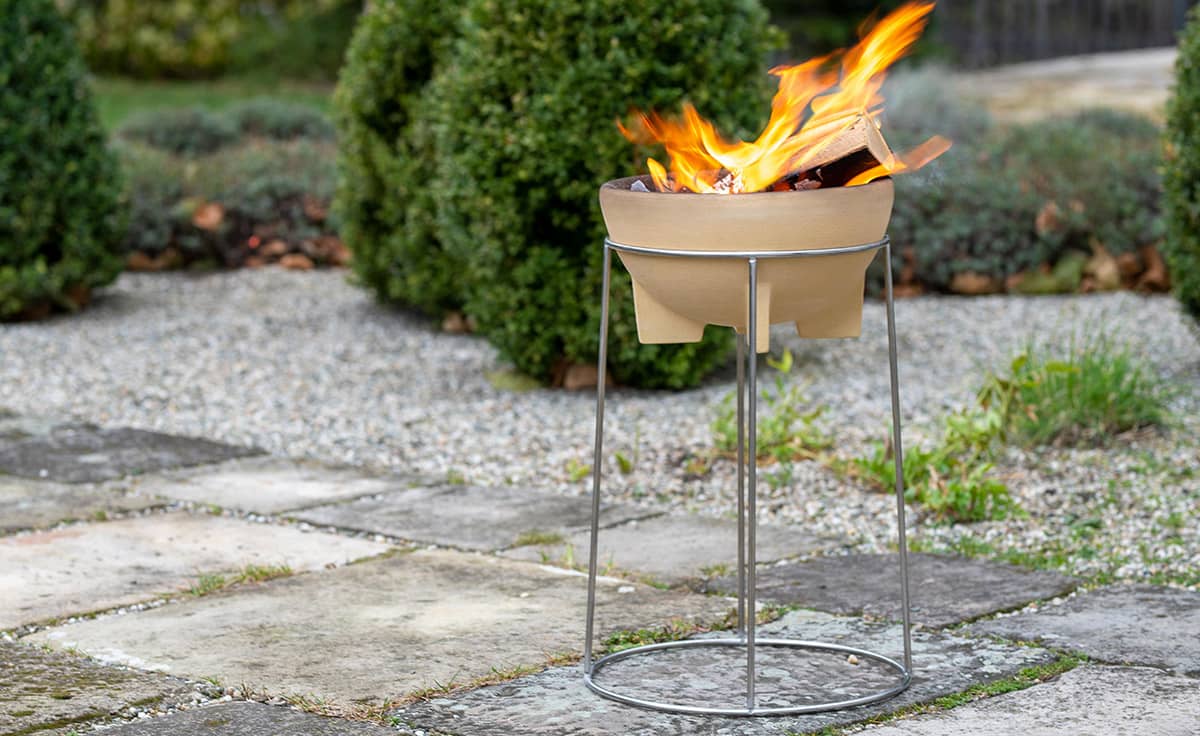 Call a Professional To Install an Underground Brazier
If you are installing an underground brazier, it is essential to contact a masonry professional. They are in the best position to know what types of materials are suitable for installing a brazier on your patio. Be aware that the buried brazier is ideal for a garden terrace.
Please take the necessary precautions to avoid the dangers associated with its use. It is essential to install the brazier in a well-ventilated space. Indeed, if the area is closed, the risks of carbon monoxide poisoning are high.
In addition, for more safety, provide your brazier with a cover, especially if you have a wooden deck. Moreover, using a brazier requires special attention because of the risk of fire. That's why you should place it far from flammable objects.