Contents:
– Software for house plans: the different functions
– House plans: free software
– Pay software to design your plans
The software used to draw the plans of a house is quite numerous and of good quality. Some of them are simple to use, others – more sophisticated – are much less accessible to the general public.
Whether free or not, these tools are indispensable for fine-tuning a project and studying its feasibility.
Software for house plans: the different functions
A house plan editor offers different functions which generally allows you to:
– draw walls and partitions;
– draw the rooms of the house at the desired dimensions on a tiled or uncovered sheet of paper, as one would do with a pencil;
– make a virtual visit when the plan is in 3D;
– draw the outside of the house;
– place the various openings (doors, bay windows, windows, etc.);
– place the sanitary facilities, the furniture (or even the car in the garage);
– position the staircase;
– move one or more rooms;
– move easily from one level to another (basement, ground floor, first floor);
– save the plan in PDF format: it can be opened later to be modified.
Before use, it is best to make sure which software they run under, IE.:
– Mac®.
– Solaris®.
– Linux®.
– Windows®, etc.
They are generally available in:
– French;
– English;
– other languages.
Good to know: some home plan software – free or paid – includes a forum, video tutorial, FAQ and user guide.
House plans: free software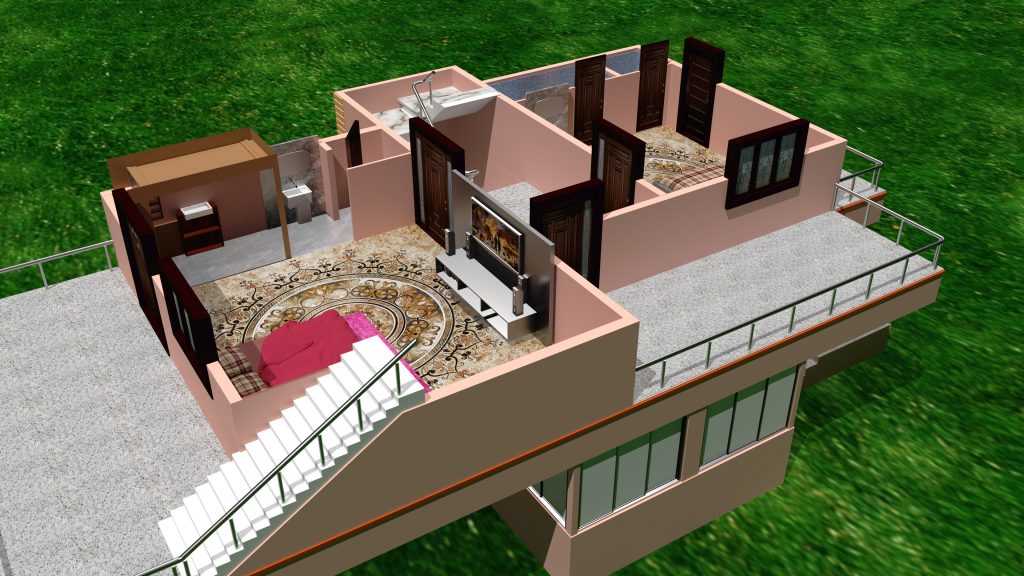 To learn how to draw plans for fun or to work on a preliminary project, there is no need to invest. The Internet allows you to draw house plans either in:
– downloading the software for free in order to save it in the computer memory: a practical solution for offline use;
– or by accessing the site via the Internet without downloading the application. In this case, a connection to the Web is required for each use.
Among the services and software of high quality and pleasant to use are the following:
– LibreCAD® (formerly CADuntu®):
◦ this computer-assisted drafting software allows to draw schematics and technical drawings;
◦ it proves to be a very useful aid for preparing a construction project.
– Home Styler®:
◦ this web service is considered to be one of the best tools of the moment in the field of house plan creation;
◦ the passage in 3D is instantaneous, the plan can be sent by e-mail or shared on social networks;
◦ the creation of an online account is optional but allows you to save your plans in order to come back to them later;
◦ attention: it is essential to have a good level of English to use it. However, Anglo-Saxon measurements can be converted into meters.
– Like an Architect®:
◦ it is a very interesting tool developed in partnership with an architect;
◦ it offers the possibility to work on a preliminary project in order to obtain a plan to scale and of professional quality.
– Sweet home® 3D:
◦ this software offers dozens of 3D models that can be freely imported;
◦ it also allows you to draw a house plan and to place objects, furniture, vehicles;
◦ it includes many textures.
– Kozikaza®:
◦ this free 3D house plan software does not require any download to design a plan, to fit out a house, to decorate the interior of the house;
◦ the tracing of a house plan is easy and fast, and the rendering is quite realistic;
◦ it is also possible to create your own furniture.
Good to know: the major brands usually provide online tools so that every Internet user can design the kitchen of her dreams.
Paid software to design your plans
Paid architecture software for designing, among other things, a house plan is particularly aimed at hardworking people who are already used to using this type of tool. The investment can be significant, but the quality will be there as well.
Some of the best known to date include:
– Cinema® 4D;
– Autodesk Architectural Desktop®;
– 3D Studio®;
– Revit®;
– Fast Plans® 12.0;
– Allplan®.
Some of these highly specialised software programs offer extremely realistic photo rendering. They may require up to 3 months of training to be fully functional. Their complexity is real and requires a good level of skill.
Good to know: relatively accessible to amateurs, Architect® 3D is a paid architectural software for creating house plans, interior design and garden design. Its interface can be assimilated in a few weeks.
Hope the above helps you out in finding your perfect home design. Remember to leave your comments in the section below.