Summary
    – Solution 1: Install commercial privacy screens
    – Solution 2: Install a plant screen
    – Protect yourself from overhanging eyes
There are different ways to enjoy a balcony while protecting yourself from prying eyes.
Here are all the ideas and tips for designing a balcony to make your coffee breaks, relaxation, or sunbathing more pleasant in privacy.
Solution 1: Install commercial privacy screens
To make your balcony railing more opaque, you can install commercial privacy screens, either synthetic or natural.
Decorative blackout fabric
The decorative blackout fabric is printed, light, and easy to fix. It can be moved and stored, and it is particularly suitable if you want to sunbathe on your balcony.
Privacy screens
When they are attached to the balcony railing with wire or clamps, privacy screens effectively protect your privacy. There are two types:
    – plastic screens, which have the advantage of being long-lasting;
    – reed or bamboo screens, which are entirely natural and aesthetic but do not age well.
Tip: for a decorative effect, you can also line one or both sidewalls of your balcony with screens. In this case, choose screens that are higher than those of the railing.
Solution 2: Install a plant screen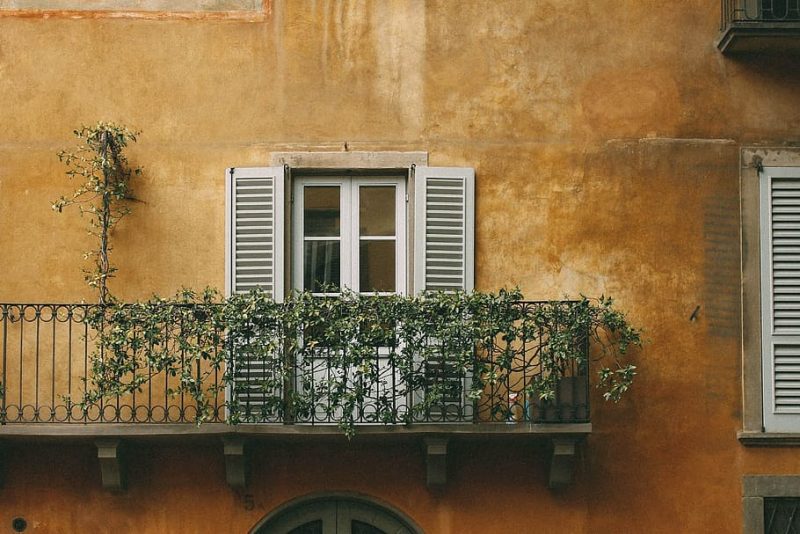 A plant screen is practical and pleasant to enjoy the desired privacy: forming an airy privacy screen gives the feeling of being in an intimate green nest while avoiding the feeling of enclosure.
For this, several solutions are available to you.
Grow a bamboo screen
With its upright habit, which avoids taking up too much space, and its light foliage that rustles in the slightest wind, bamboo is ideal for forming a screen of greenery. Thanks to its evergreen leaves, it protects you all year long.
Choose non-tracking bamboo, for example:
    – Thamnocalamus tessellatus, with an upright, stocky habit, suitable for narrow balconies. Shady exposure.
    – Fargesia Jiuzhaigou, with tiny purple and then soft green leaves. Half-shade to sun exposure.
    – Fargesia Rufa, with a slightly drooping habit. Half-shade to sun exposure.
Note: grow bamboos in 30 or 35 litre round pots or 60 × 60 cm and 50 cm deep tubs.
Installing shrubs in pots
If your bacon is wide enough, shrubs placed in pots or tubs in front of the railing can also form an effective screen.
Choose them in different heights, combining:
    – Evergreens: photinia, noble laurel, pittosporum, nandina…
    – Deciduous shrubs: lilac, flowering gooseberry…
    Hornbeams are easy to prune and whose foliage is marcescent (turns red in winter but remains on the tree).
Install trellises to cover with climbers
If your balcony is narrow, install trellised planters against the railing. Choose trellis boxes that are at least 140 cm high and grow climbers in them:
    – Perennial climbers: ivy, honeysuckle, star jasmine…
    – Annual climbers: Volubilis (ipomoea), climbing sweet peas, runner beans (decorative and edible)…
Stretching wires to grow climbers
If you have a covered loggia, you can stretch vertical wires for the summer on which you will grow light annual climbers:
    – Install planters hanging from the railing.
    – Attach hooks to the roof of the loggia, in line with the planters (plan to have a second person hold you securely!).
    – Stretch nylon fishing line between these hooks and the railing.
    – Plant vines in the planters.
Grow a live wicker fence
The original live wicker fence looks good even in winter when the wood is bare. As soon as spring arrives, it is covered with light foliage to protect you from prying eyes.
Plant willow stems in long tubs in winter, then braid them.
Note: it will be necessary to water your living fence very regularly.
Protect yourself from prying eyes
Being protected from the eyes of your overhead neighbours provides an excellent sense of privacy.
    – If you can fix it solidly, install a shade sail: mainly aesthetic, it brings a touch of design or seaside decoration to your balcony and protects you perfectly from prying eyes.
    – Alternatively, install a parasol, which also creates an intimate atmosphere. Well oriented, it also protects you from the opposite.
Note: if your balcony is minor and narrow, choose a wall-mounted parasol.
Hope the above has given you an idea of what to do to get some privacy and discretion on your balcony. Remember to share your thoughts below.