Do you know what the most crucial advantage of rustic decor is? Whether it's the warmth of a wool blanket knitted at home, the rough freshness of unfinished wood surfaces, the ordinariness of earthy colors, or the comfort provided by the natural, unpretentious design of rustic furniture, rustic style offers the shortest route to comfort and life's simple pleasures. It can be combined and incorporated into modern interiors and classic Scandinavian and industrial interiors.
If you know the essential landmarks, you can create the comfortable atmosphere of a rustic room simply by arranging them harmoniously in the room. Here are some tips to help you out!
Would You Put a Fireplace in a Rustic Room?
If you want to achieve a rustic room, you need to know that you need a fireplace. This element is an essential part of a rustic living room. It forms part of the relaxation area, where everyone can feel comfortable chatting with someone, reading a book, or just taking a nap.
Don't think you can live in a room with a fireplace or chimney? You can also choose a more suitable fireplace, such as an electric fireplace or a bio fireplace. Electric fireplaces have the image of moving flames, while bio-ethanol gas fireplaces have real flames but are easier to maintain than real wood stoves.
Want a Room That Is Rustic Yet Modern?
In its original style, furnishing a rustic room is more complicated. There are wooden beams on the ceiling, unpainted wooden furniture, walls that look unfinished, and bare stone walls. It is impossible to arrange such a design in a small living room.
However, just a few rustic accents in a modern, airy, and bright flat will give it an authentic feel. With a few minor interior design tricks, you can make a room look the way you want it to, even if the space and configuration of the room are limited. Replace plastic and metal with decorative pieces that look more natural, even if they are replaced with wallpaper that looks like wood or brick. We call this a creative solution.
Also, keep neutral tones clear, blend light wood tones into the atmosphere as much as possible, and use mustard, gray, and scarlet as accents.
Want To Blend Classic and Rustic Styles in One Room?
In a rustic and classic room, the focus should be on interestingly shaped furniture with carvings and embellishments, not straight lines and simple designs.
A five-strand chandelier with bulbs that look like candle flames combines the elegance of the classic style with the primness of a rustic interior from almost two centuries ago.
The art object represents classic interior design, but to harmonize the rustic atmosphere you aim for, we recommend replacing the golden metal frame with wood. It is also brilliant to replace paintings with handmade jute wall décor depicting traditional landscapes.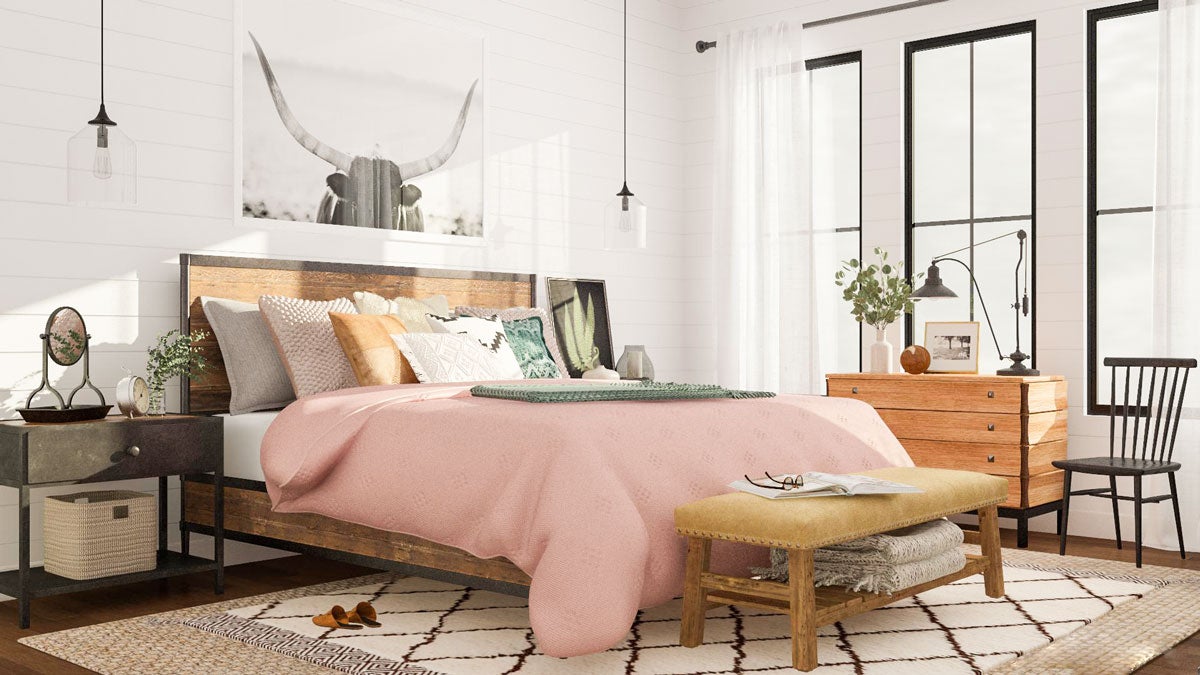 How To Organize a Scandinavian Room With Rustic Accents?
The Scandinavian style is essentially a variation of the Rustic style, especially for homes in Denmark, Sweden, Finland and Norway. The rustic Scandinavian room is based on natural materials, functionality, plenty of natural light, and simple comfort, with an airy design that is not overly decorated.
Choose light wood furniture and don't forget the windows: it's hard to find similarities between these two styles, but not impossible. The natural light that Scandinavians seek is reflected in transparent or translucent curtains, making rustic interiors more approachable. Therefore, opt for linen curtains and drapes.
Also, a tree-shaped bookcase made of pine wood is an attractive rustic accent and can replace a regular bookcase.
Do you like rustic home designs? Let us know in the comments below!