Having an outdoor kitchen is simply one of the best decisions you can make. A beautiful outdoor kitchen helps make your kitchen more comfortable because you are free and can cook whatever you want without the smell reaching the top floor. Also, you have a lot of space and can freely install kitchen cabinets as you wish.
Finding the best cabinet design is one of the most effective ways to improve the look of your kitchen, bathroom, and any other area of the house where cabinets are installed.
However, even with custom woodwork, there will be days when you'd rather not be in the house. Since the summer months offer valuable opportunities to spend time outdoors with friends and family, thoughts turn to the best places to have fun out.
Creating an outdoor kitchen space at home means always having a place to hold a barbecue, barbeque, or just a drink date, and custom cabinetry design will help make it as inviting as possible.
Of course, creating an outdoor kitchen with custom cabinets requires some degree of planning. With the promise that the result will be worth it, here are a few ideas to help you get started.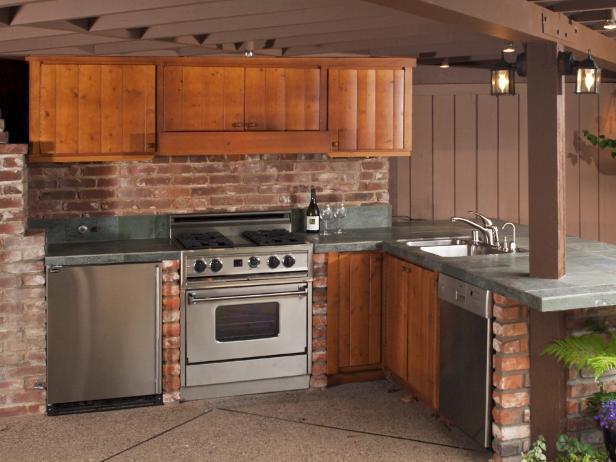 Outdoor cabinets
The real advantage of an outdoor kitchen space is that everything is within easy reach, so you don't have to run around the house all the time. To facilitate this, outdoor storage is essential. And since it will be partially exposed to the elements, it should be built of durable material.
Made of solid wood and treated appropriately, the custom-made furniture provides both stunning aesthetics and durable strength, making it ideal for your new outdoor kitchen.
The innovative cabinet design allows you to take full advantage of the available space. There will be plenty of storage space for everything you need to organize the kind of get-together with friends and family that will become legendary.
A true outdoor kitchen
If a job is worth doing, it is worth doing well. If you are considering creating an outdoor kitchen space with custom cabinets, there should be no half measures.
Building a space with as much care and effort as any other room in your home should be the goal. With a roof over the kitchen equipment to protect it from rain and snow, replicate all the standard equipment of your indoor kitchen in your outdoor space.
In addition to the stove and ventilation, refrigerator, and custom cabinets, a fully functional sink is essential for outdoor cooking. Incorporating space for a sink into your cabinets' design and hiring a plumber to install it is a step not to be missed.
The place to be
After ensuring that your outdoor kitchen is fully equipped and that the furniture is custom-designed, you must then arrange the remaining space with sufficient comfort for your guests.
Whether you use stools around a bar or more traditional outdoor furniture around a large table, make sure you provide enough seating. A second refrigerator nearby will save you from having to move to the main refrigerator in the kitchen, and it can hide in a cleverly designed cabinet.
Depending on your interests, a wall-mounted television for sports, a pool table, a fireplace with a dance area, or even a wood-burning pizza oven can allow you to spend more time than you'd like in your outdoor kitchen space.
Of course, this is not a bad thing. Spending time outdoors with friends and family is one of life's great pleasures, and the best way to make sure you always have a space to do so is to build your own. A custom cabinet design that contributes to the project's grandeur is simply the cherry on top of the al Fresco cake.
A2Z KITCHEN & BATH GALLERY has a team of dedicated professionals to give your kitchen a fresh new life. By carefully examining each aspect of your renovation project, we develop efficient design solutions that improve the functionality and practicality of your kitchen cabinets and backsplash.