9 Outdoor Design Ideas
Whether you have a small balcony, a large terrace or a full-fledged garden, your exterior needs a design worthy of the name. Indeed, far from being the least pleasant places, the outdoor areas allow you to enjoy the beautiful days and enhance the rest of your home by providing aesthetic value.
From the choice of garden furniture to the choice of colours, lights and materials, we give you 9 ideas to create an oasis in your home.
Choose your outdoor furniture according to your interior
Rattan, wood, resin or even metal, you're spoilt for choice depending on your budget! If you can't store outdoor furniture in winter, choose materials resistant to humidity and cold. 
Match your outdoor furniture to the room overlooking the terrace furniture to create harmony. 
    – Do you have a designer interior? Choose furniture with clean lines and a modern design, for example, in lightweight fibre-reinforced concrete. 
    – Have you adopted a "country chic" spirit for your living room? Play with woven fibres, rattan, or even woven PVC that are easy to maintain. 
    – If you like the bohemian style, coloured aluminum will be your ally.
Harmonize the floor with the façade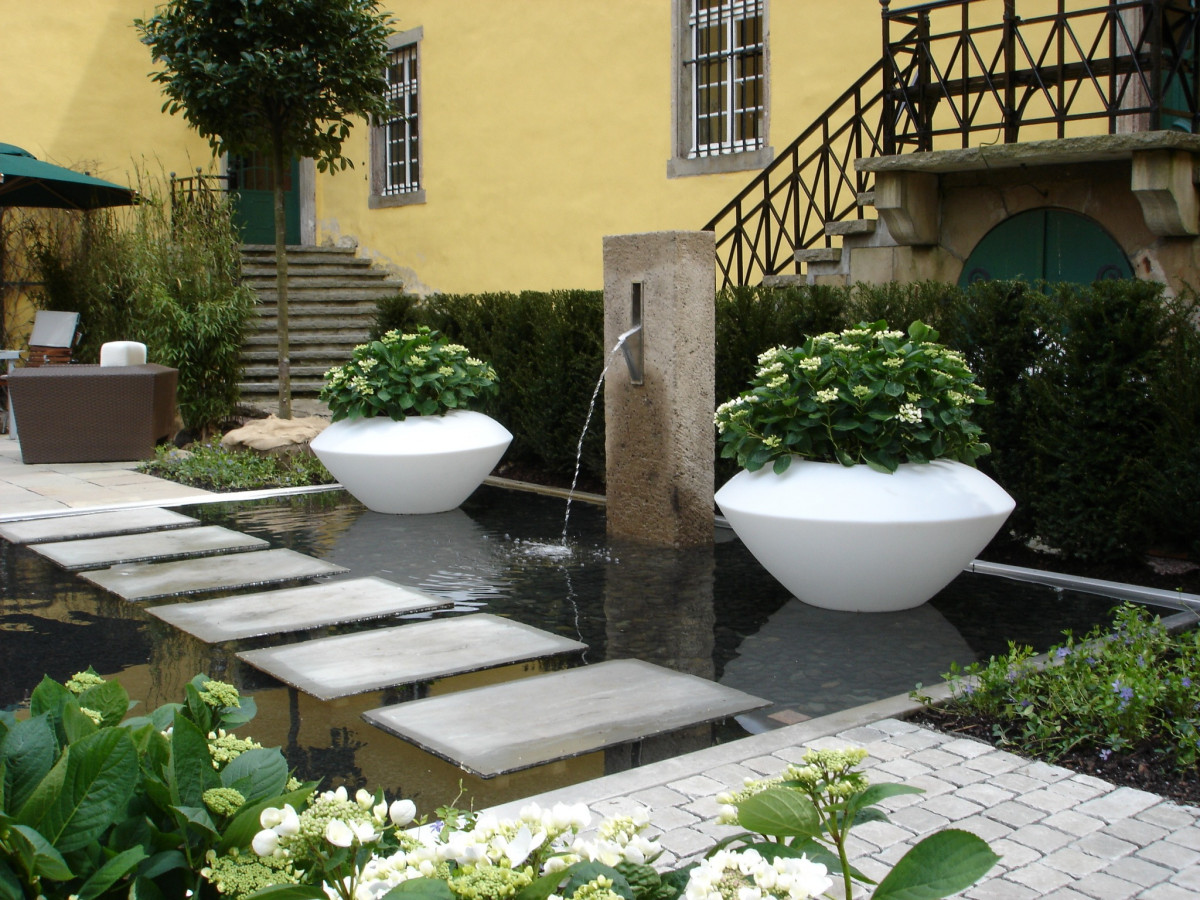 Wood, stone, tile, or even faux grass, the choice of flooring will depend on the style of your home. 
A gray tile with large slabs or a wooden covering like a grating will be ideal for a contemporary home.
For a more classic home, you'll opt for a natural or reconstituted stone terrace such as "Burgundy stone" or marble.
Contemporary wooden houses will go well with wooden decks with wide blades. They can be treated to preserve their original colour or left untreated to acquire a grayish hue over the years.
Brick and its many shades will suit all facade styles. A flamed brick will go with a classic style, and a plain brick with a contemporary style.
Combine bright colours with neutral tones
Choose neutral colours to avoid any misunderstandings. They are relaxing and go with everything! But bright hues will bring cheerfulness to your garden. 
    – Opting for a bright, fresh colour like turquoise married to white or a dark colour gives a particularly successful visual effect.
    – Fuchsia pink is also a cheerful hue for outdoor furniture. The striking contrast with the surrounding greenery will energize your balcony or terrace.
    – Aniseed green, with its touch of yellow, will brighten up your garden while blending perfectly with the surrounding foliage.
Install a relaxation area with a hammock
If your terrace has two walls, hanging a hammock is tempting and ideal for resting and sunbathing!
You can even make your own hammock with a large cotton fabric. If you don't feel up to it, you can find them in stores at very affordable prices, some even with adapted supports if the walls don't allow you to hang them.
Lighting creates atmosphere
Lighting your terrace at night is to enjoy the coolness of summer evenings around a barbecue and, if you are lucky, a pool.
Lighting can be:
    – punctual, thanks to sconces placed on the facades ;
    – diffused, with street lamps or light pots lit with LEDs.
Good to know: the type of lighting is very much linked to the atmosphere you wish to give to your terrace. Warm and subdued tones will have the best effect for a cozy and intimate atmosphere.
Use textiles for a warm atmosphere
Comfortable textiles aren't just for your home's interior. Cozy cushions and warm plaids will find their place on your furniture. If you don't want to bring them in when the weather turns gloomy, choose textiles suitable for outdoor use. 
You can also brighten up your floors by rolling out polypropylene rugs. 
Good to know: if you store textiles in an outdoor cabinet, ensure it is well sealed or has an anti-moisture system. Otherwise, your fabrics may be stained with mildew after storage.
Decorate your exterior with plants
Plants are the perfect elements to complete the design of terraces and balconies. Flower pots will help decorate outdoor spaces by bringing a fresh and green impression, even in the city center. Choose them in various materials, resistant to cold and frost, so you don't have to bring them in during winter. 
To choose them, use our Find a plant service to take into account
    – the orientation of your garden, balcony or terrace;
    – the climate of your region;
    – your diligence in maintenance!
Protect yourself from the sun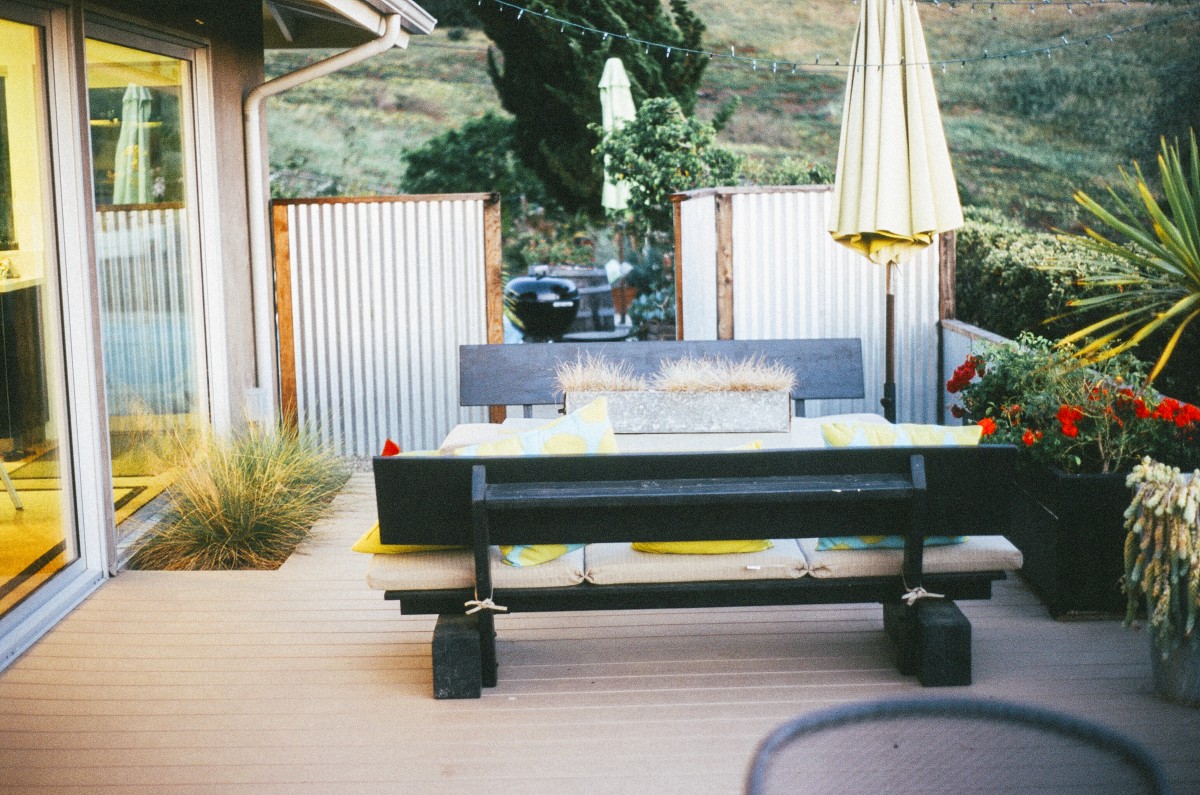 Sun protection will quickly become essential during the summer, especially if your outdoor spaces are well-oriented. You have the choice according to your budget: simple parasol, shade sail, awning or pergola.
On a balcony, a parasol or a shade sail will have the right size for a small space while remaining within a reasonable budget.
On a terrace, an awning will effectively protect the ground surface. For a simplified use, you can opt for a model equipped with an electric motor to lower and raise it. You can even find models with solar and pressure sensors to perform these tasks automatically, including during your absence.
Good to know: in collective housing, you must respect the specifications of the condominium regarding the type and colour of solar protection.
Cooking outdoors
Even if the surface of your balcony or terrace does not allow you to install a real summer kitchen, you can always install a barbecue or a plancha and take advantage of the sunny days to grill. 
In collective housing, you should opt for electric or gas models and avoid odorous dishes such as sardines. 
In an individual garden, a covered space dedicated to summer cooking, including a washing area, a refrigerator, cooking elements (plancha or barbecue) and, why not, a pizza oven, to allow you to prepare your meals directly outside.
Now you have some ideas for a pleasant and elegant outdoor space. Don't forget to share your experience in the comments below.