We might have thought that a gutter can be a plus point to our house's aesthetics and it would save us from the problem of waterlogged in the attic or the basement. Choosing a gutter system is not always as easy as we thought of as there are a lot of points to consider. It is important to get gutters that will last for years and if it does not then it is a bad investment. That is why it is essential that you have thorough research before deciding to install any gutter at your place.
There is a wide range of gutter types to choose from and many opt for basic vinyl or aluminum as it is an easy solution for their needs. Some homes especially the historic or higher ends ones need a gutter system that will stick up to more than 10 years. With the help of ABC Seamless Rain Gutters, here is a list of why you should choose copper as your next gutter material. The majority of homes now come with a standard aluminum gutters because they are easy to install, cheap and function well, but most homeowners quickly discover that a proper gutter system is more than just functional.
Gutters come in a huge array of materials, types, and quality. You can buy gutters in galvanized steel, vinyl, stainless steel, aluminum, and the lesser-known copper. Aluminum is extremely common for homes and condominiums. Copper is awesome as a unique, fashionable option. Copper gutters are a distinctive selection that come with a huge variety of choices. Copper gutters are more interesting and most popular choice for many reasons.
We listed the reasons for you down below:
You might be surprised by the many benefits of copper gutters over other types.
Durability
The more durable each component of your home is, the less maintenance or replacements you will need to make overall. And when choosing a gutter system, copper has more longevity than aluminum or vinyl.
We are not talking about a few years difference here either. Copper gutters can last well over 50 years, and with very little maintenance. If well maintained, they can survive much longer than that.
This is because copper is resistant to corrosion. While aluminum can rust over time, copper builds up a patina that protects it from deterioration. This means you do not have to worry about unexpected, costly damage.
Appearance
Most people agree that there is nothing special about the appearance of aluminum or vinyl gutters. The aluminum models are typically painted white simply because aluminum is not very attractive.
Copper, however, has a very unique and rustic look. Plus, because the oxidation process forms a patina over the surface, they will actually change color in time. The result is a weathered, stylish appearance that looks great on any home or building.
The color can easily complement other design components of your home and will add curb appeal you will not get with other gutters too.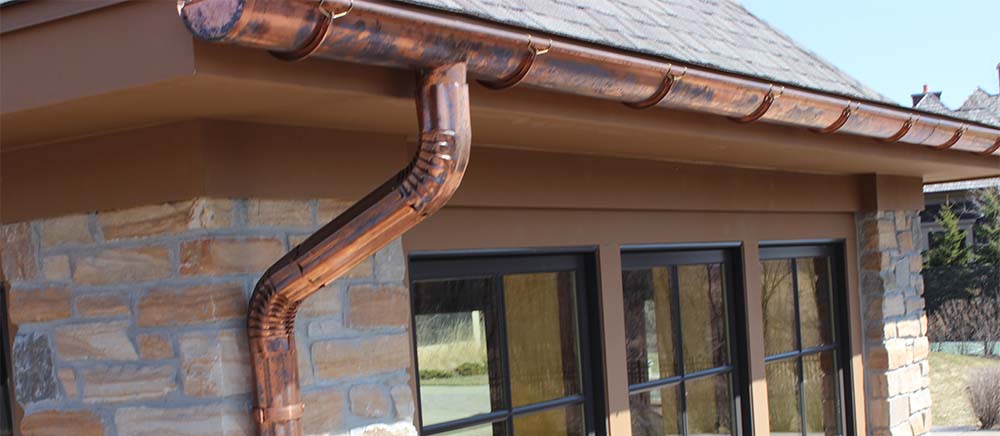 Less Maintenance
Because of their durability, copper gutters will not need much maintenance at all. Even when exposed to harsh weather, they rarely dent, crack, or sag.
This is a result of their heavy-duty manufacturing, which involves welding the sections together. Aluminum and vinyl are flimsy in comparison.
Like with most gutter systems, you will still need to clear them of leaves and debris on a regular basis to maintain them. But, due to their durability, you can expect less maintenance overall with copper gutters.
Cost-Effective
The initial cost of a copper gutter system is higher than aluminum or vinyl. However, it will pay off in the long run. Here is how:
By opting for copper, your return on investment will be much higher than with traditional gutters. This is due to their longevity and durability.
You will avoid costly repairs or early replacement. In fact, during the entire lifespan of your copper model, you would have to replace aluminum or vinyl gutters three or four times.
Copper will add value to your home and make it much more visually appealing to buyers.
Enjoy the Benefits of Copper Gutters
Adding copper gutters to your home will give it the extra character it needs to stand out from the other homes on your street. You will also enjoy a well-built product that is far superior to aluminum.
Get Help with Installation
Partly due to their resilience, copper gutters can be difficult to install. They are sold as sectional pieces, which means you have to solder the different components together correctly to achieve a seamless drain. It is unlikely the average homeowner would be able to take on copper gutters as a DIY project. The different styles of copper, from K style to high back ogee, require a greater attention to detail when soldering.
Considering having a new copper system professionally installed on your property? Contact ABC Seamless Rain Gutter, they offer full-service copper gutter fabrication and installation to homes and businesses in Miami and South Florida.