Having a beautiful, perfectly landscaped outdoor garden, whether big or small, is definitely every homeowner's dream. Gardens are intended to be one of the finest spots where you and your family can relax and take pleasure in the true beauty mother nature has to offer. The serene and scenic foliage, the wonderful colors of beautiful blossoms, the sweet-smelling morning breeze, the joyful chirping of backyard birds, all come together forming a perfectly balanced environment. Despite all this however, outdoor gardens may still seem partial and incomplete without the presence of an exquisite and finely structured water feature. Whether it is a simple rain chain, waterfall, a fountain or a fishpond, garden water feature surely convey and adds personality to your yard.
Garden water features such as fountains and waterfalls come in myriads different forms, designs and also the materials they are made of. Garden and backyard fountains can come in the form of multi-tiered fountains, barrel fountains, pond fountains and wall fountains. Pond fountains acquire larger space. They are often mechanically programmed so that the water is sprayed in several different patterns. Wall fountains on the other hand produce lower water sprays and perfect for small spaces such as a balcony of an apartment or condo. Stone, cast iron, copper, and concrete fountains are some of the popular ones.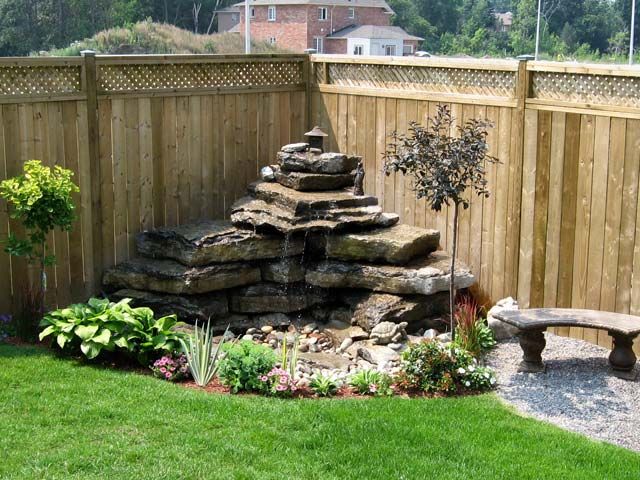 Looking to add a little bit of nature's serenity to your patio of backyard landscape? What better way than using water, one of the most soothing elements. Here are five water feature ideas for your consideration as you make your plans.
Idea One: Go All Out with A Waterfall
This is your chance to have the ultimate water feature! Build a waterfall out of natural rock that is actually to nature's scale. You decide exactly what size this is for your yard but try and make is as realistic as possible.
Use rocks and stones of varying dimensions to build the actual structure. Then, pick up a waterfall kit for your home center. This kit will usually consist of a pump and the necessary housing to needed to circulate the water
Idea Two: Splashing Bird Bath Fountain
Add an easy bird bath type fountain to your patio. Think of the traditional bird bath but consider that they now come in many varieties. Many have built in pumps to keep the water moving. All you have to do is fill it up and plug it in. Your feathered friends will thank you too!
Idea Three: Water in The Sky
If you already have a decent sized pond or lake in your yard, why not add a floating water fountain? They come in many varieties and spray patterns, from pulsating or "dancing" water to sky high vertical water jets. Some are even solar powered so there is not much else to do after you set them afloat.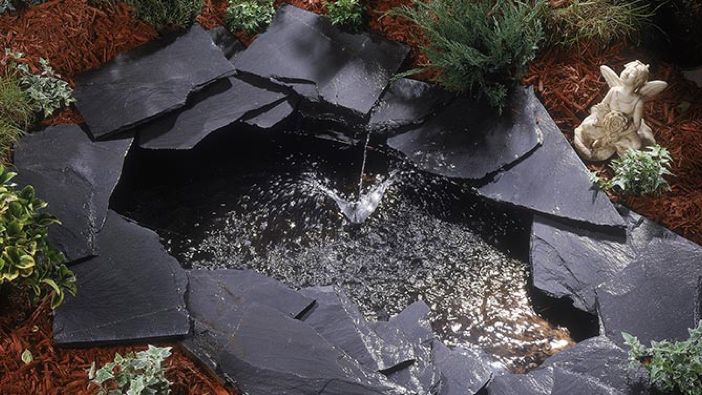 Idea Four: Abstract Wall Fountain
Looking for a water feature that is a little more abstract or artistic? The wall fountain might be the perfect option for you. While flat so they mount easily against a wall, these often give the illusion of being deeper or fuller than they are. Many will have a unique eye-catching trick, such as making the water seem to flow upwards.
Idea Five: Peaceful Miniature Serenity
Maybe you just want the easiest and most economical way to experience the peaceful trickle of gently flowing water while relaxing on your patio or deck. If that is the case, you can find all kinds of miniature fountains made from flowerpots or other similar décor. Many times, they will be Asian themed with bamboo accents. These do work nicely and are always a pleasant addition to your outdoor living space! You can always make your landscape look more stylish with different types of water features.
So, all you have to decide is what kind of feature you want. Here are some of the options:
Fountains
Garden fountains are one of the easiest water features to add to your yard. Most home improvement stores, and garden centers will carry do it yourself kits. Choose from a large variety including standalone fountains and those that hang on your wall. All you have to do to install it is positioning the fountain, fill it with water and plug in the fountains pump. If you want to get creative, you could even make your own fountain out of new or old pots, a little bit of plastic tubing and a small water pump.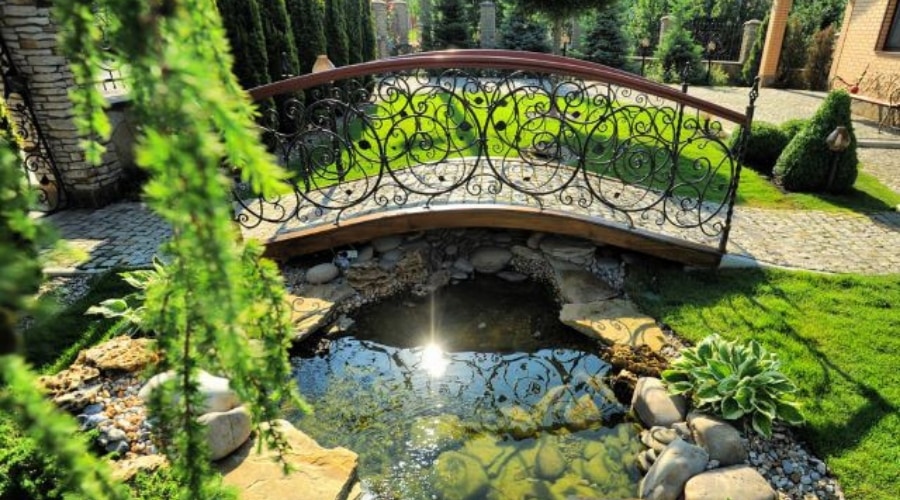 Ponds
Ponds involve a little more work but are still easy to do in the hands of a competent do it yourselfer. Once again, kits are readily available from your home improvement or garden center. To put in a pond, you will have to first dig a hole in a suitable location. Ponds are normally only a few feet deep, but it is still a lot of work to dig out all of that soil. Next you will either line the hole with a flexible pond liner or insert a formed hard plastic liner. Then add rocks and a pond filtration system. After treating the water, you can then add plant life and even fish if you so desire.
Waterfalls
If you want more than a basic pond, you could try installing a waterfall. This installation is a little more complicated and you might want to consult a professional landscaper. It does take some experience to plan out the flow of water on a waterfall.
Waterfalls are also an excellent feature to add to an existing swimming pools landscaping. They will make an ordinary pool a sight to behold.
With all of the options, it can be hard to decide what type of water feature to add to your yard. Go over your options and choose the type that best fits your budget and you do it yourself experience level. It is always better to take the help from professionals who will provide excellent services at reasonable prices.
Aqua Spray Irrigation Inc. improves your outdoor spaces by adding eye-catching bodies of water. They take your landscape to the next level with perfect hardscaping or a new koi pond.