For many, the kitchen benchtop is one of the most used elements of the house: it's where the food is prepared, hot pots are placed, and all kinds of dishes are made. This is why kitchen benchtops should be robust, resistant, impervious to sudden temperature fluctuations, impermeable to liquids and most importantly, suitable for daily use and easy to clean.
Choosing the right material for your kitchen benchtop can be challenging, especially considering that you'll have to find the right balance between personal taste, design and functionality. Opting for natural stone for your kitchen benchtops can help transform the soul of the kitchen, giving it a unique style. Of course, we cannot think of every type of stone – not all are suitable for the purpose. Some materials are too porous and therefore easily stainable – but even the most resistant must be treated with some care. Here are some examples of natural stones that are ideal for kitchen benchtops:
2) Marble
Marble kitchen benchtops hold a real piece of history in kitchen designs. It is the most precious and refined and has been used for an extended period for time. It is resistant to wear and tear, temperature changes and stains, has a wide range of colours and can be produced in various thicknesses or with traditional surfaces. The charm of a marble benchtop lies in the uniqueness of each design, which is always different and colourful. As its weak points are known to be humidity and acidic liquids such as lemon or coffee, these foods must be cleaned immediately; otherwise, they leave an indelible mark.
People also often tend to identify marble with the classic white/grey marble, forgetting the infinite range of nuances that this stone can offer. Born from the combination of mineral impurities present in the soil (clay, silt, iron oxides, flint lumps), each area has its characteristic marble. So, don't be limited to the classic and look for different colours and designs!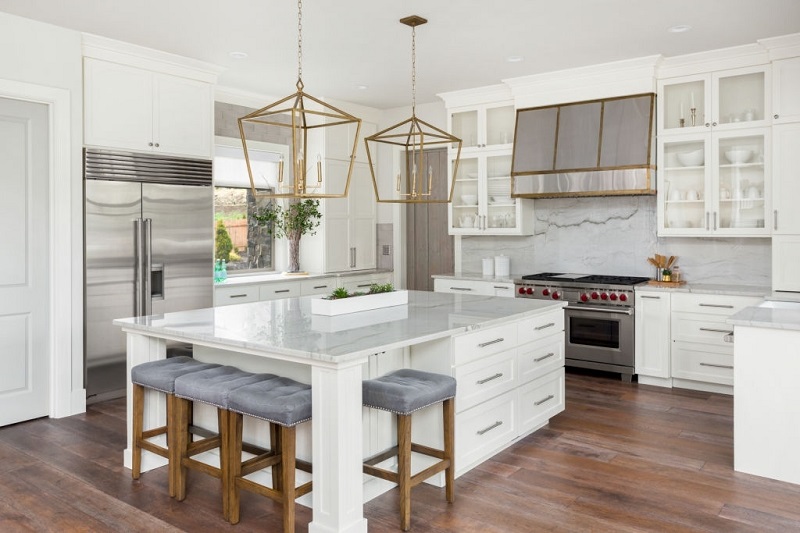 2) Limestone
For those who want to obtain a rustic effect, you can opt for limestone: this material of calcareous origin (that is, they are mainly composed of calcium carbonate), are very resistant to heat and are easy to clean. You can work with different finishes than usual or with more classic, smooth edges. They have a unique charm and can be combined with both a rustic and a more classic and refined style: it all depends on the choice of the other elements of the kitchen.
3) Granite
If marbles are the most popular, the most resistant, because they are mainly made of quartz, is granite. They do not absorb liquids, do not get scratched and are not damaged by acid attack, as their hardness makes them a little difficult to process. They have a more granular and less twisty texture which makes them interesting even for small surfaces. As with marbles, granites come in different colours and shades depending on which part of the world they come from. The most popular ones are the Indian granites in blue and light blue shades.
4) Slate
A very interesting stone is slate. Since it is a metamorphic rock (a rock that has been transformed by heat, pressure, etc.) of sedimentary origin, it is characterized by a very pronounced fissility (ability to split). This particular characteristic makes it possible to easily divide the slate into parallel planes with a simple blade, a technique usually called "splitting".
It is very resistant to heat, cold and shocks. As it is so versatile and easy to work with, it has been used for every purpose over the centuries. Besides, it is very dark and can easily be combined with light shades as well as with intense and vibrant colours.
If  you're looking for natural stones for kitchen benchtops, vanity benchtops and more, the team at Xinda Stone can provide you with the highest quality stone products, ideal for both domestic and commercial applications. Contact them for more information!