Australia's stunning landscapes and temperate climate make it the perfect place to enjoy outdoor living. One of the best ways to make the most of your outdoor space is by adding a deck and pergola. These outdoor features not only enhance the aesthetic appeal of your home but also provide a functional and comfortable area for relaxation and entertainment. In this blog post, brought to you by Land Sculpture Design & Construction, we'll explore some creative deck and pergola ideas to transform your Australian home into a haven of outdoor bliss.
The Classic Timber Deck
Timber decks are timeless and versatile additions to Australian homes. They exude a warm and natural charm that complements the surrounding environment. Consider using durable Australian hardwoods like spotted gum or blackbutt for a deck that can withstand the country's harsh climate. You can choose from various timber finishes, including natural wood tones or stained finishes to match your home's aesthetic.
Composite Decking for Durability
If you prefer a low-maintenance option, composite decking is an excellent choice. Made from a blend of wood fibres and recycled plastic, composite decking offers the look of natural wood without the upkeep. It's resistant to moisture, rot, and insects, making it ideal for Australia's diverse climates. With a wide range of colours and textures available, you can find the perfect composite decking to suit your home.
Multi-Level Decks for Visual Interest
Create visual interest in your outdoor space by incorporating multi-level decks. This design adds depth and dimension to your backyard while providing separate areas for dining, lounging, and entertaining. Multi-level decks work particularly well on sloped terrain, allowing you to make the most of your outdoor space.
Pergolas with Retractable Roof Systems
Enjoy year-round comfort with a pergola featuring a retractable roof system. These innovative pergolas allow you to control the amount of sunlight and shade, making your outdoor space adaptable to different weather conditions. Whether it's providing shelter from the scorching Australian sun or allowing you to stargaze on clear nights, a retractable roof system adds versatility to your pergola.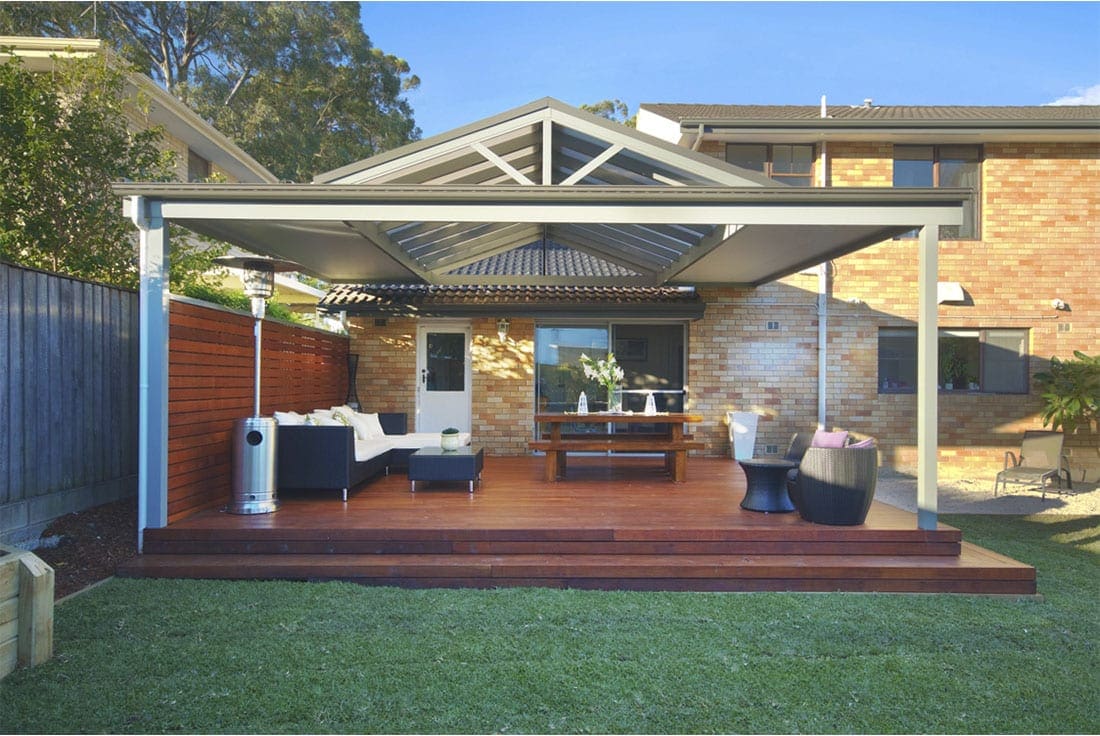 Shade Sails for a Contemporary Look
For a modern and sleek outdoor design, consider incorporating shade sails into your pergola. Shade sails provide a unique and contemporary aesthetic while offering excellent protection from the sun's rays. They come in a variety of shapes, sizes, and colours, allowing you to customize your outdoor space to your liking.
Timber Pergolas with Vines
Enhance the natural beauty of your outdoor space by constructing a timber pergola covered with climbing vines. This not only provides shade but also adds a touch of rustic elegance to your backyard. Opt for flowering vines like wisteria or fragrant options like jasmine to create a fragrant and visually appealing canopy.
Outdoor Kitchens and Dining Areas
Elevate your outdoor living experience by incorporating an outdoor kitchen and dining area into your deck or pergola design. Australian summers are perfect for alfresco dining and barbecues, and having a fully equipped outdoor kitchen can make entertaining a breeze. Consider adding a built-in barbecue, prep area, sink, and seating to create an inviting outdoor culinary haven.
Fire Pits and Cosy Seating
Extend the use of your outdoor space into the cooler months with a fire pit and cosy seating arrangement. Whether it's a traditional wood-burning fire pit or a contemporary gas fire feature, the warmth and ambiance of an outdoor fire create a welcoming atmosphere for gatherings with family and friends.
Vertical Gardens and Green Walls
Incorporate vertical gardens or green walls into your pergola design to infuse your outdoor space with lush greenery. These living walls not only enhance the aesthetics but also improve air quality and provide natural cooling. Select a variety of native Australian plants to attract local wildlife and add to the ecological richness of your outdoor space.
Lighting for Ambiance
Outdoor lighting can transform your deck and pergola into a magical night-time retreat. Install soft, warm LED lights, string lights, or lanterns to create a cosy atmosphere. Consider using solar-powered lighting options to reduce energy consumption and minimize your environmental footprint.
Your Australian home's outdoor space is a valuable extension of your living area, and investing in a well-designed deck and pergola can significantly enhance your quality of life. From classic timber decks to modern shade sails, there are endless possibilities to customize your outdoor space to suit your lifestyle and aesthetic preferences. Land Sculpture Design & Construction specializes in turning outdoor dreams into reality, ensuring that your deck and pergola are not only beautiful but also functional and durable. With the right design and thoughtful planning, your outdoor space can become a haven for relaxation, entertainment, and enjoying the natural beauty of Australia.