The choice of countertop can be confusing as there are very many options available in the market and all of them seem to be so welcoming. If you are the one who wants to transform your kitchen, bath or office into an amazing design statement, then this information will be helpful for you, because our goal is to sustain your desire for changes. The materials used to make countertops are numerous but there are three most common picks we are going to speak about, these are granite, quartz and soapstone. However, it's impossible to categorically claim what is the best option, because each has a range of pluses as well as minuses that will surely influence your choice.
Also consider textures and edges as your material choice will impact these as well. You will want to investigate all the edge styles for your choice and check the sharpness and thickness of the profile.
The combination of two materials can be worked into the design and provide the best solution, where one type of material is for a work area, and another for clean-up or eating. In fact, countertops affect the look and feel of the whole kitchen and can make a dramatic design statement.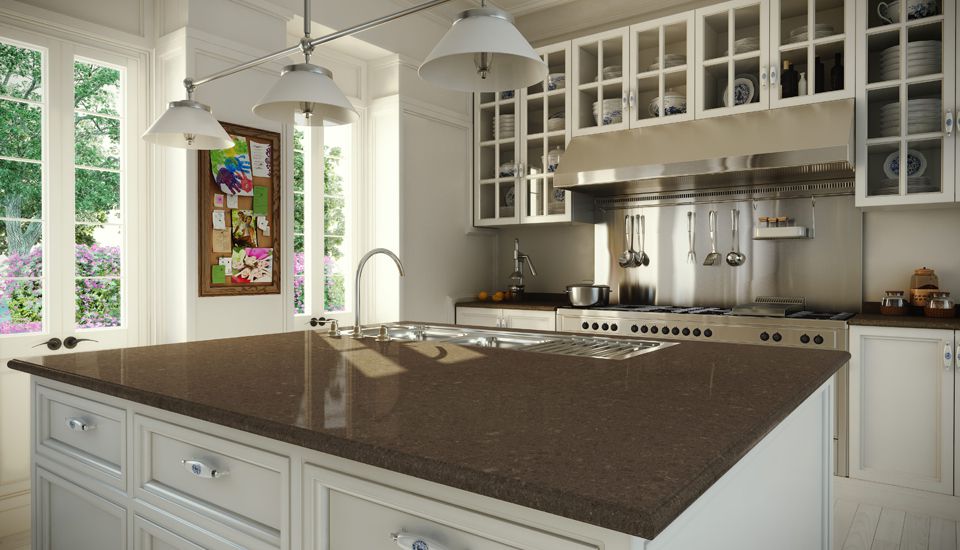 1. Stone: Granite, Marble and Limestone
Granite, marble and limestone may be the most expensive choice, but they are the top choice for beauty and practicality. They will last forever with proper care. Granite is the leading choice within this category. The stone can be installed as a solid surface, but a more reasonable installation can be made as granite or limestone tiles with tight grout lines.
Granite exudes elegance in a kitchen and as the use of it becomes more widespread, prices have come down. Stone upgrades even the most modest kitchen. It holds up to heat and comes in a range of colors. It is substantial and will last a lifetime. It can have a mat finish as "honed" or a shiny polished finish. New sealers are almost maintenance-free, but granite can require some periodic sealing and some stones, particularly marble, can absorb stains despite being properly sealed. Granite has the second highest hardness rating after diamonds, but any stone can crack if it is stressed in transport or installed improperly. Stone offers a high value to home buyers and, particularly, granite kitchen countertops are elegant and timeless.
2. Quartz- and Acrylic-Based: Engineered Stone and "Solid Surface"
Countertops made of engineered stone are composed of 93% quartz particles. Engineered stone offers a wider range of colors than granite and has a nonporous surface that resists scratches. Engineered stone is not as popular as granite and is often confused for granite but the regular consistency of the patterning gives it away as being man-made. In fact, engineered stone has all the benefits of granite but is easier to maintain, without the annual sealing required by natural stone. It is more expensive than granite or stone.
Like the quartz-based engineered stone countertops are the seamless, manufactured acrylic-based ones that are called "Solid Surface" counters. While they also offer a wide assortment of colors, patterns and finishes, they don't have the natural look of stone. They do resist stains, moisture, sunlight and heat, and inhibit the growth of mold and bacteria. However, they are vulnerable to hot pans and stains which can damage the surface. Solid Surface countertops are custom-made, and their acrylic material can be formed to include an integrated sink with seamless installation.
The term "Solid Surface" for this acrylic-based material category is confusing, these countertops are so-named because they are just what they're called, "solid." However, they are solid and custom-made, manufactured, seamless countertops as are the quartz-based engineered stone countertops. In addition, the term is doubly confusing since stone countertops (granite, marble, limestone) and wood (butcherblock) are also seamless, "solid" countertops, as opposed to veneer-like countertops as laminate or tile.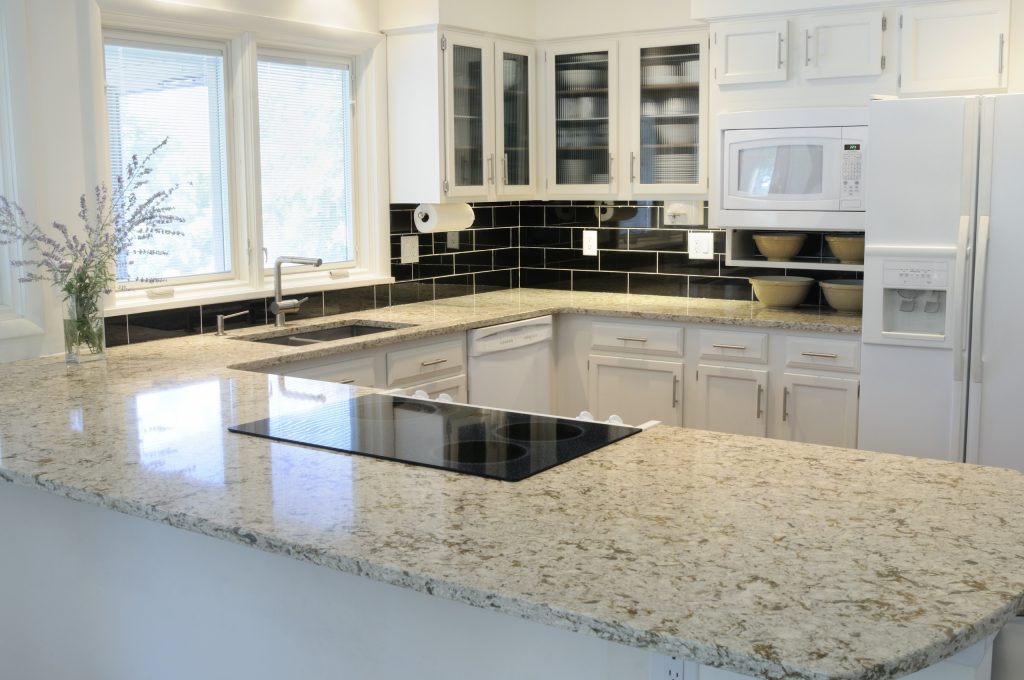 3. Tile: Ceramic, Aluminum and Copper
While ceramic tile seems old-fashioned as a countertop material, it has many pluses. It is durable, inexpensive and easy to clean. Ceramic tile counters are usually installed one section at a time and most people can easily work with the materials. Ceramic finishes are excellent because they take hot pans, are easy to clean and are available in several different textures. The only downsides are that the grout in between the tiles can be difficult to clean, tiles can chip and crack, and the surface can end up uneven. In addition to ceramic tile, tiles also come in aluminum and copper for some great new looks, whether in brushed or smooth textures. Also, tiles can be set in various sizes and patterns, as squares, subway block and angled as diamonds. Back splashes can have unique designs and capping tiles.
4. Stainless Steel
To give your kitchen the look of a serious chef at work, or a contemporary industrial design, then stainless-steel countertops will work for you. This material is extremely heat-resistant and durable, and it is easy to construct the countertops precisely to your specifications as a seamless surface. While they are easy to clean, on the downside, they can dent, and they can be very expensive.
5. Concrete
Contemporary and industrial, concrete countertops offer another option that blends function and chic modern design. These can be constructed and cast right in your kitchen and they can be color tinted. New treatments reduce the porous character and eliminate cracking. Concrete is heat and scratch resistant, and the look is exotic and unusual, a nice variant on the modern design theme.
In sum, these are kitchen countertop options for every style and every budget. Any of the five material choices for your new or remodeled kitchen will give character and beauty to your hardest-working kitchen surface. Contact the best of the lots to help you choose the right kitchen countertops for you. Desire Home Deco is the company to contact when it comes to durable and effective kitchen countertops in New York.