5 Easy Steps to Design a Small Balcony
Summary
– Step 1: Sketch a plan for your balcony
– Step 2: Make the floor of your balcony a decorative element
– Step 3: Make the most of your balcony walls
– Step 4: Make the most of your balcony railing
– Step 5: Give your balcony style and unity
A city balcony is often small, even tiny. Even if you only have one square meter, it's still worth the effort to create a terrace that will allow you to enjoy every ray of sunshine! However, the more space you have, the better it should be designed to be both practical and beautiful.
Follow the advice in this post to design a small balcony in the most pleasant way possible.
1. Sketch a plan for your balcony
On your small balcony, every square inch counts. Make a plan to make the most of the space available.
1. Take the measurements of your balcony and transfer them to paper by drawing a plan. 
2. Think about the furniture you want to put on your balcony. Look through the catalogues for pedestals, stools, folding chairs, ottomans, etc., that take up as little space as possible.
3. Draw this furniture to scale on your plan.
4. Only then should you consider how much space you have left for planting: can you still place pots or planters on the floor? How many? What shapes and sizes?
Note: To make the best use of the space, especially if the balcony is narrow, it is often best to group the furniture in the middle (a pedestal table or shelf and one or two chairs or stools) and put planters at each end of the width of the balcony.
2. Make the floor of your balcony a decorative element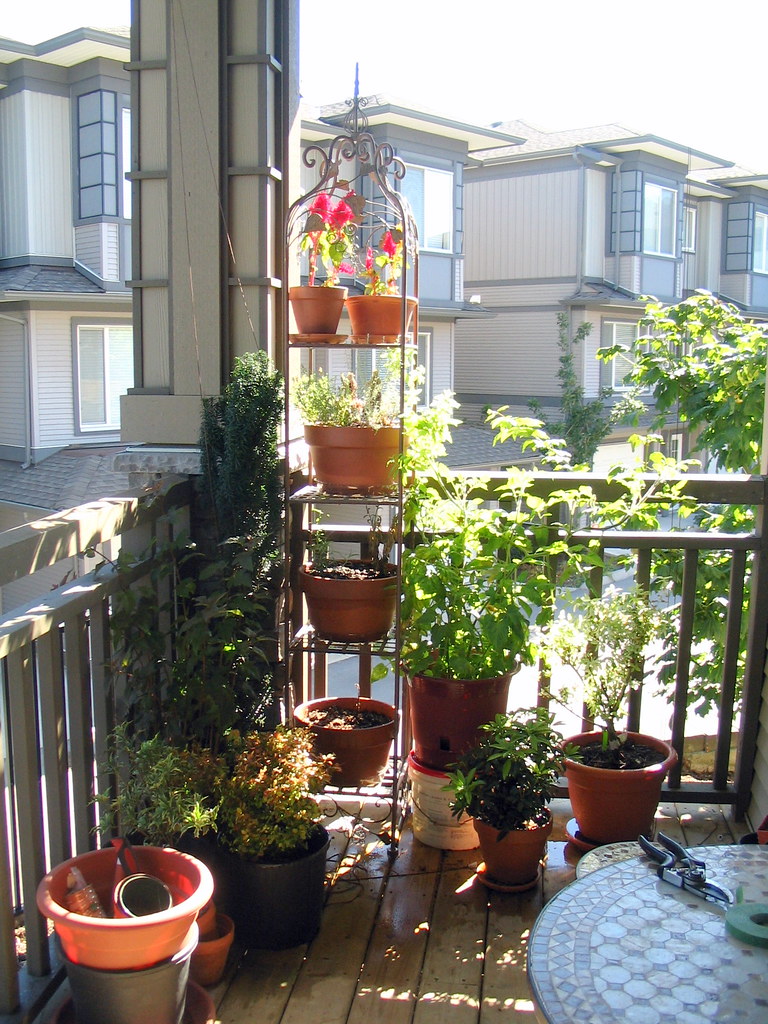 You won't have room for many decorative elements on your balcony: start by making your floor pleasing to the eye.
If your balcony is not too small, you can cover it with gratings, wood slats or composite material.
Tip: on a narrow balcony, lay the boards parallel to the width to give it more visual depth.
If your balcony is tiny, you won't have room for much vegetation. One trick is to create a green effect by laying artificial turf on the ground, sold in rolls or tiles.
3. Make the most of your balcony walls
Take advantage of every vertical surface on your balcony, especially the walls or partitions that separate you from adjoining balconies. There are several ways to do this:
– Attach trellises on which you will grow perennial climbing plants (ivy, Virginia creeper, star jasmine…) or annuals (Volubilis, sweet peas…).
– Attach several parallel rows of light planters to the wall in which you will place the plants of your choice. To make it more pleasing to the eye, use identical planters or the same model in different colours.
– Attach to the wall several superimposed shelves on which you will grow hanging plants (ivy, geranium, fuchsia…) or not.
– Install a plant wall.
Place a ladder against a wall or partition and hang light flowering pots from it.
– At one end of the balcony, against the wall, install a high, shallow outdoor shelf on legs: place hanging plants at the top and line the shelves with different pots in which you will grow low or hanging plants.
Note: if you need to shade your balcony, consider a wall-mounted umbrella to save space.
4. Make the most of your balcony railing
Your balcony railing provides an excellent place to hang pots, planters and even small furniture.
– Pots, planters: legally, you should not hang pots and planters outside a balcony. When space is at a premium, use pots and planters designed to straddle the railing, as they will encroach less on your balcony space.
– Growing bags: you can buy special bags from garden centers that attach to the balcony railing with a strap and fill with potting soil to grow the plants of your choice.
– Shelves: If your balcony is not big enough for a pedestal table, hang a shelf on the railing. They are available in wood, metal, plastic, rectangular or half-moon shape.
– "Balcony desk": you can put your computer and a cup of coffee on this shelf with a built-in planter, which is installed astride the railing.
5. Give your balcony a style, a unity
The smallest balcony can have its style of its own. This unity will help it to appear more prominent.
Here are some examples:
– contemporary-zen style: serenity, graphic plants in dominant shades of green and white, furniture and design containers in shades of white, black and gray;
– vitamin style: brightly coloured flowers, brightly coloured lacquered metal stools, light folding chair with matching resin planter…;
– rustic style: wooden grating on the ground, climbing plants on wooden trellises, large wicker basket used as a planter, terracotta planters and pots, colourful flowers, aromatic plants…
Note: a small balcony can't stand any clutter. If you have space, install a chest or a small piece of furniture to store your gardening accessories.