Summary
– Modular wooden house: a very fast construction
– Modular house: assembled modules
– An ecological and efficient house
– All possible layouts: inside and outside
– Turnkey delivery or self-build?
– Modular house: from $700 per m²
– Modular wooden house: an evolving house
Modular wooden house: a very fast construction
The wooden modular house is a modular construction that is usually built very quickly (about 10 weeks). Its modules are manufactured in a workshop sheltered from the weather before being delivered and assembled on-site: they are placed on concrete foundations and steel beams.
The modules of the house are usually:
– for the walls: pieces of wood called "planks" solid or glued together;
– for the base of the house: modules made of steel, wood or concrete.
Note: walls, floors and ceilings are filled with cellulose, rock wool or wood fibre insulation.
This modular wooden house construction can be delivered "turnkey" or self-construction, if you feel like a great handyman.
Modular house: assembled modules
Modular construction is achieved by assembling individual factory-made modules.
These individual modules are:
– transported by road;
– then placed on the foundations using hydraulic systems and set up in the field using cranes.
Note: the traditional houses are built directly on the site.
Generally, the modules include a complete structure: floors, walls and roof.
An ecological and efficient house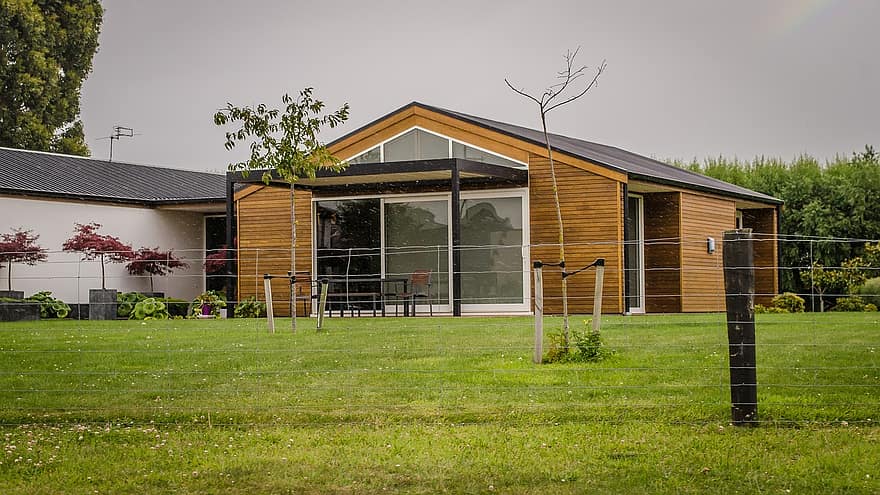 Modular construction meets the concepts of today's life.
– Functional and aesthetic, it presents the characteristics of ecological buildings.
– These houses use energy-efficient materials, which makes them particularly economical to use.
– They have been awarded the very high energy performance label.
All possible layouts: interior and exterior
The modules can be customized to meet different needs.
Interior layout: joinery, plumbing, decoration, etc.
The modules are available in several sizes to create large living rooms: a kitchen, bathroom, bedrooms, etc.
As the floor, walls and roof are included in the modules, all that remains is to carry out the layout work:
– joinery: windows, partitions, stairs, floor, etc.;
– plumbing and electrical connections;
– painting;
– floor coverings.
Equipment can also be added, for example a heat pump.
Exterior: cladding, terrace, roof equipment, etc.
For exterior cladding, all materials and colours are possible (metal, wood, etc.).
You can also opt for special fittings:
– terrace;
– solar panels;
– plant roofing;
– veranda, etc.
Turnkey delivery or self-construction?
Depending on your budget and the time you can devote to your house, there are two construction options:
– turnkey delivery: in this case, the construction of the modular house is carried out entirely by the company,
– self-construction: you decide to participate in the construction of the house, which will take more time!
Delivery times for a modular house are much faster than those of a traditional house: count about 3 months.
Modular house: starting at $700 per meter square
Modular houses are 20 to 30% cheaper than conventional buildings.
Prices vary considerably from one builder to another, but also according to:
– the living area;
– the materials used;
– and the technology chosen;
Overall, count between $700 and $2000 per square meter for this type of construction.
Modular Wooden House: an evolutionary home
The modular wooden house also adapts to all architectures and difficult terrain, it can be:
– contemporary (urban, wooden);
– traditional (chalet).
It offers many possibilities of arrangement and decoration:
– possibility of large open spaces;
– it is evolutionary and can be modified by creating an elevation or enlarged by adding an extension according to changing needs.