The TV is an essential element that must fit well in your living room. You don't know what would be its ideal location? No worries, to help you, we give you some advice.

Positioning the TV Well
The first mistake not to make is to place the TV near the windows and, more precisely, on the walls opposite the windows. This way, you avoid the reflections of the sunlight touching the screen. If you don't want to be disturbed while watching your TV, we advise you to place curtains to filter the daylight (you can also position the screen perpendicular to the light).
The height of the TV should not be neglected either. It should not be set too high or too low. To choose the ideal height, you should consider the seat of the sofa (it is more correct to buy the sofa first before buying the TV).

Ensure comfort
Most people spend more than 3 hours watching TV. This is considered a time of pleasure and relaxation. The best option is to place your TV in front of a sofa or armchair, so that you don't twist your neck or contort your body while watching your favorite show or movie. We advise you to use these equipment if you want to have more comfort in front of your TV: small lamps for a warm atmosphere, a footrest to settle your legs, a small coffee table to put some objects (remote control and others…).

Choosing the Right Screen Size
Know that the location of your TV will also depend on its size. Do not choose a television with a huge screen, but one proportional to the size of your living room. Know that the ideal distance between the sofa and the TV should be 2 or 3 times the diagonal of the TV. Find the proper distance between the sofa (or armchair) and the visual effect will be great.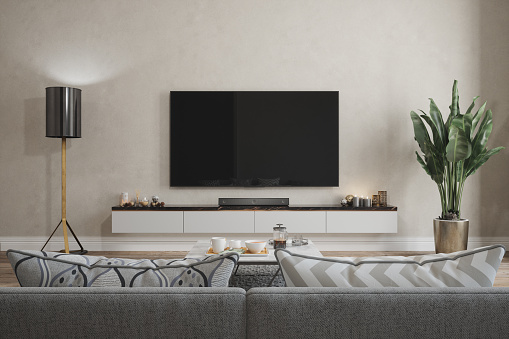 Visible TV or Not
If you have found the ideal position, you must now make a choice: use the TV as an essential element of the living room or hide it when it is turned off. Suppose you have decided to consider the TV as a decorative element of your living room. In that case, we advise you to use a piece of furniture (dedicated or not) as in a niche (you will be able to decorate the bottom according to your desires).
If you have chosen to hide your TV, we advise you to use a TV cabinet with a sliding door (some models have shelves all around, which are very practical for installing wi-fi or decorations) or a bookcase with doors to hide the TV when it is turned off. If you have the right, you could also opt for a niche in the wall. You can then use a sliding door to hide it when it's off.

Don't Forget Some Items
Whether it's a set-top box, DVD, or game console, these items should also be considered when installing your TV in your living room. These elements imply that you will have to find the furniture that will be used to contain them. To prevent your TV from being damaged, consider equipping it with a stabilizer and an inverter.