Cushions put the finishing touch in the decoration of any room. We propose some simple and quick ideas to give a new look to your living room or bedroom.
Often, the key to decoration is in the cushions, in the way of combining them and integrating them in a given space. If you get the combination right, you can completely change your decoration style and get a magazine result.
These decorative accessories are so versatile that you can use them practically in all the rooms of your house. You can use them to give a touch of color to your sofa and play by combining them with your bed's textiles or even on the chairs in the dining room or on the terrace.
Play by combining colors, sizes, textures, and patterns. You will be able to change your living room or bedroom look in a comfortable, fast and economical way.
Tips to Place Cushions on Your Sofa
The key is to use the right amount of cushions. It is essential not to fall short but not to go overboard with the amount. You can use a very simple trick that consists of always placing one cushion more than the sofa's number of seats. So, in a 4-seater sofa, you would put 5 pillows. Combinations of 3 or 5 cushions always work best because odd numbers create more harmony in compositions.
Try to place them from the sofa's sides towards the center, using the latter as an accent and the cushions on the sides as a background.
If you have a corner sofa, use the sofa's corner and sides to make three small combinations. In the case of an armchair, it is advisable to place a maximum of 2 cushions.
It is important that you pay attention to the size based on the dimensions of the sofa. The most common is to use 55 × 55 or 60 × 60 cm cushions for three-seater sofas. For the bigger ones, you can even choose 65 × 65 cm. Once you keep this basic rule in mind, you can combine them by properly mixing colors, patterns, or sizes.
Tricks to Combine the Cushions on the Bed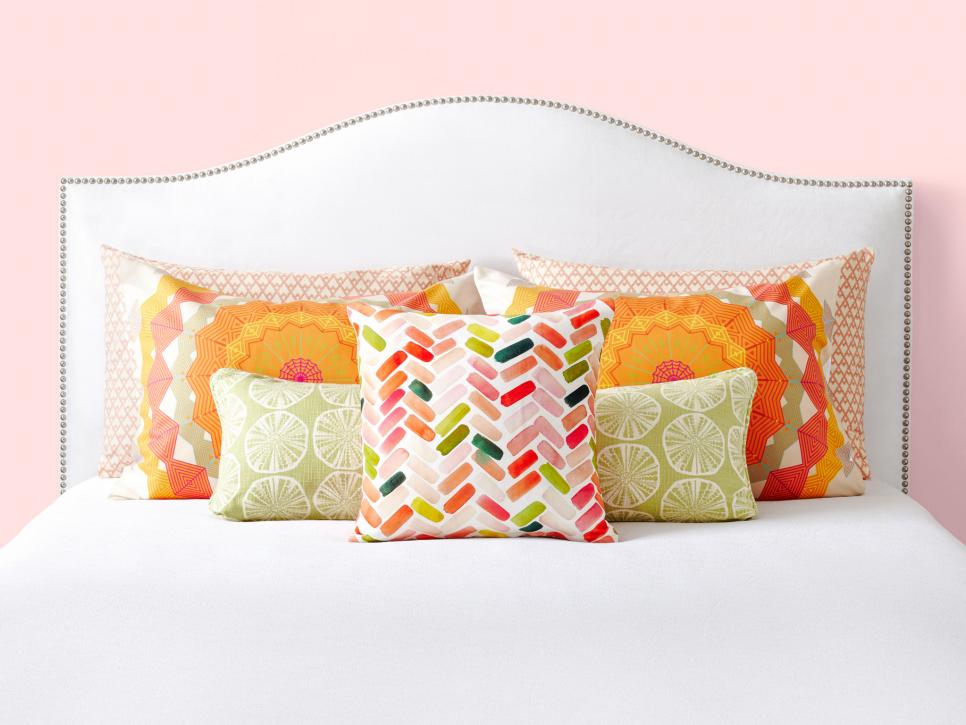 To make a suitable combination of cushions on your bed, you can use a very simple formula: The 3-2-1 or 2-2-1 formula consists of placing 2 or 3 back cushions, larger than the others.
You can use the cushion covers that go with the bed textile, usually in 50 × 70, 55 × 55, or 60 × 60 cm. If your bed is king size, you can use 3 cushions as a backrest, if it is smaller, it is recommended that you place 2. In the next row of cushions, you will place 2 smaller ones: 45 × 45 cm. You can use a 30 × 50 cm cushion to put in front of everything as an accent.
Play With Color
This is the most delicate part and perhaps the most important. You must find a balance between sobriety and excess of color, since you can obtain a dull and graceless result or, on the contrary, too aggressive and loaded.
We recommend that you start by using a very simple trick: play with a maximum of three colors, you'll be right for sure.
The main tone will correspond to that of the sofa or bed linen. In the case of being printed, you will take the most dominant color as the primary color, and it is recommended that you use plain cushions. If it is a bed with a printed quilt, you can take the matching cushion covers as a base, and the rest of the cushions will be smooth in the tones of the pattern.
If you use plain bedding or sofas, you can opt for patterned cushions with the shade of the cover or bedspread as the main color and introduce other smooth cushions in a third shade that matches contrasting with this one.
Pattern Combination
If you decide to use cushions with different patterns, always in the same shades. But be careful when choosing them, with three different designs that combine with each other is enough.
Choose a range of colors to use in the patterns that match the rest of the room's textiles: curtains, wallpaper, or bedding. You can use motifs such as flowers, stripes, stars… but always using a chromatic coherence.
Shaped Cushions for Children's Bedrooms
Shaped cushions give a lot of play when turning the little ones' bed into a play area. Stars, moons, and clouds will add a sweeter and more relaxing look to bedrooms with soft pastel décor.
For the more adventurous, the cushions in the shape of an elephant, tiger, cat… or any other animal will create a very fun atmosphere and are also on-trend. If you decide to decorate your room inspired by the jungle or in a tropical style, these types of shapes will fit in perfectly.
Besides, this type of cushions is the new stuffed animal. Its fun shapes stimulate children's imaginations and will quickly become part of their games.