Simple, quick to install and economical, the kit house is based on the assembly of individual modules manufactured in the factory. Modular, prefabricated or containerized, it is available in different formats. This blog presents this method of construction and the possible solutions according to your needs.
Contents
– Prefabricated house: ready to install elements
– Prefabricated house: a bioclimatic dwelling
– Prefabricated house builder
– Prefabricated house: the self-construction option
– Prefabricated wooden houses: a reliable and ecological prefabricated technique
You will save money by opting for the prefabricated house. The container house, modular house or prefabricated house are comfortable homes that can be built easily and in a minimum amount of time.
Prefabrication consists of designing and building a structure from prefabricated elements that are assembled, installed and put into operation on the construction site. These prefabricated elements are inseparably linked to the viability, foundation, framework, enclosure and roof of the construction and can integrate insulation and reserves for various networks. They are produced on a site that can be either a factory or workshop, or a temporary installation adjacent to the construction site.
Prefabricated houses: ready-to-install elements
The building elements of the prefabricated house are:
– prepared in the factory;
– then assembled directly on the building site (very quick turnaround times).
The structural components (joists, floors, exterior walls, interior partitions, etc.) are therefore manufactured sheltered from bad weather, which limits construction site delays.
The prefabricated house is generally designed from a 3D digitized house plan that allows the creation of prefabricated modules. This type of construction is easy to install and rigorously complies with current standards and legislation.
Prefabricated house: a bioclimatic dwelling
The prefabricated house can take different forms according to your desires:
– luxury residence;
– cottage or rustic cottage;
– family home;
– apartment, duplex;
– building for public or commercial use (school, nursery, living quarters, etc.).
Bioclimatic
Regardless of its status, the prefabricated house is known as passive or low-energy building. Pre-assembly in the workshop ensures a perfect fit between the modules, reducing thermal bridges as much as possible.
This is due to the insulating properties of the construction materials used:
– wood;
– straw;
– or cellulose wadding.
Good to know: the materials can be ecological or not, depending on your choice.
Possible layouts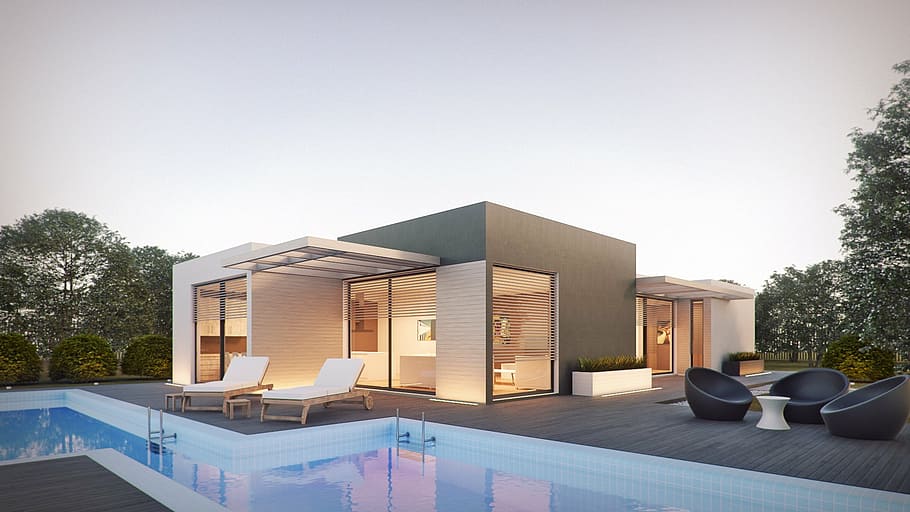 The elements of decoration and interior and exterior design are strictly the same as for a traditional house. One can for example opt for:
– a solar roof;
– a solar water heater;
– a veranda;
– a prefabricated garage.
Prefabricated house builder
Choosing a builder who specializes in prefabricated homes will give you the following options:
– Factory planning of your future home, with insulation certificate;
– the intervention of a crane, necessary for the installation of the elements dissociated from the prefabricated house, as well as scaffolding and transport costs included in the construction contract;
– the complete assembly of the ready-to-assemble elements of the house;
– the installation of the roofing with the chosen tiles;
– the installation of rainwater drainage;
– installation of windows and other carpentry;
– the cladding of the facade:
◦ plaster;
◦ wooden cladding, etc.
You can, however, skip one or the other of these options and reduce the final bill.
Prefabricated house: the self-construction option
Depending on your budget and the time you have to devote to your future home, you can opt for turnkey construction or choose the self-construction principle, which allows you to make real savings.
Partial or total self-construction?
The house can be delivered at various stages of construction. It can even be assembled by the client or a contractor of his choice.
In all cases, this alternative represents a real saving, not to mention the pleasure of building your house yourself.
Precautions before you start building your own home
To get into the adventure:
– it is important to have a good basis in DIY and a good sense of organization;
– take into account the many hours of work that you will need to free up to do the work in your home (2,000 hours of work, several months or even several years).
Prefabricated wooden houses: a reliable and ecological prefabricated technique
The techniques currently used in the factories allow the realization of very long wall sections (up to 24 meters) and of variable thickness (from 50 to 78 cm). These walls are obtained by assembling wooden planks glued or nailed to each other in cross-plies, which ensures a very good stability of the work over time.
The finishes are to be chosen according to your desires, but above all according to your budget:
– insulation;
– cladding;
– joinery and closures;
– interior cladding;
– parquet flooring;
– fitted kitchen and bathroom, etc.
Price of a prefabricated house: delivered from $60 000
For a prefabricated house, prices vary considerably. It all depends:
– on the living area;
– the materials;
– the choice of "turnkey or self-construction".
Finally, you should count about $60 000 "turnkey" for a small prefabricated house excluding delivery and land.