Skylights, also known as windows or openings, can be found on ceilings or the walls' upper part. They are an excellent alternative to get natural light in environments that do not have the possibility of having a window in the wall. Although the truth is that today there are many rooms where, despite having large windows, they choose to put a skylight. It is that beyond its functional aspect, it is a very decorative element. We love houses with skylights, and this time we will share some ideas. While skylights are typically small openings, large skylights are trending today. In many cases, they even cover a large part of the ceiling, practically becoming glazed ceilings. Let's check them out!
Homes with Skylights in Kitchens
One of the rooms where we most find skylights is usually the kitchens. Nothing better than having plenty of natural light in the place where food is prepared. And as we said before, modern architecture presents us with many houses with skylights – even where they are not necessary. In the first kitchen that we see below, there is an important window. We could say that there is no need for a skylight on the roof, but we know it is gorgeous, and yes, it indeed brings even more light. There are no windows in this modern kitchen, but the combination of a large skylight and white kitchen cabinets makes this kitchen look very bright.
Skylights in Dining Rooms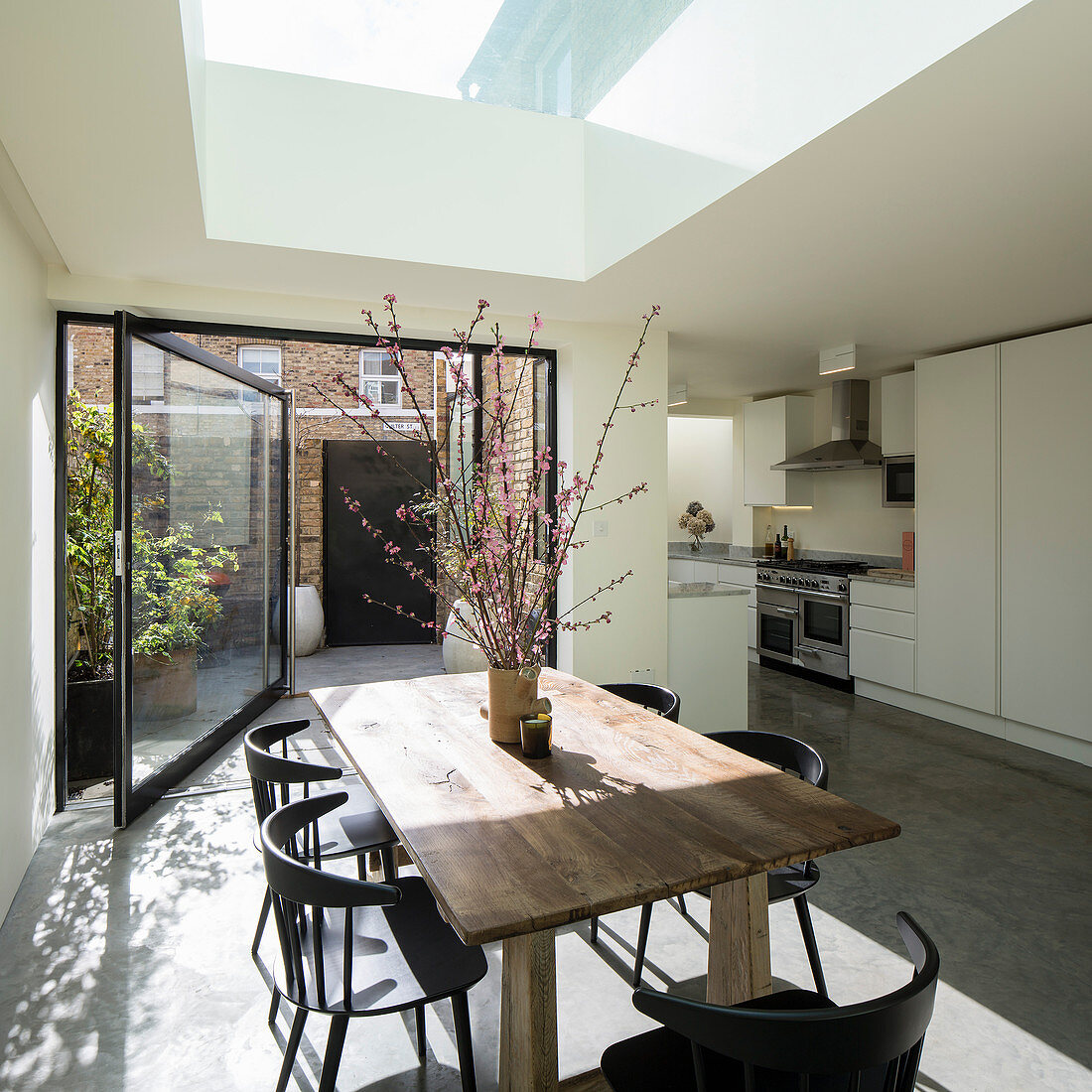 Another of the dependencies where these skylights or skylights are most often used is in dining rooms and living rooms. Precisely, below, we see photos of dining rooms with skylights where they also have large windows. They are clear examples of environments where a window in the ceiling would not be necessary. But in any case, we cannot deny the special touch that one of these skylights gives it.
Skylights in Bathrooms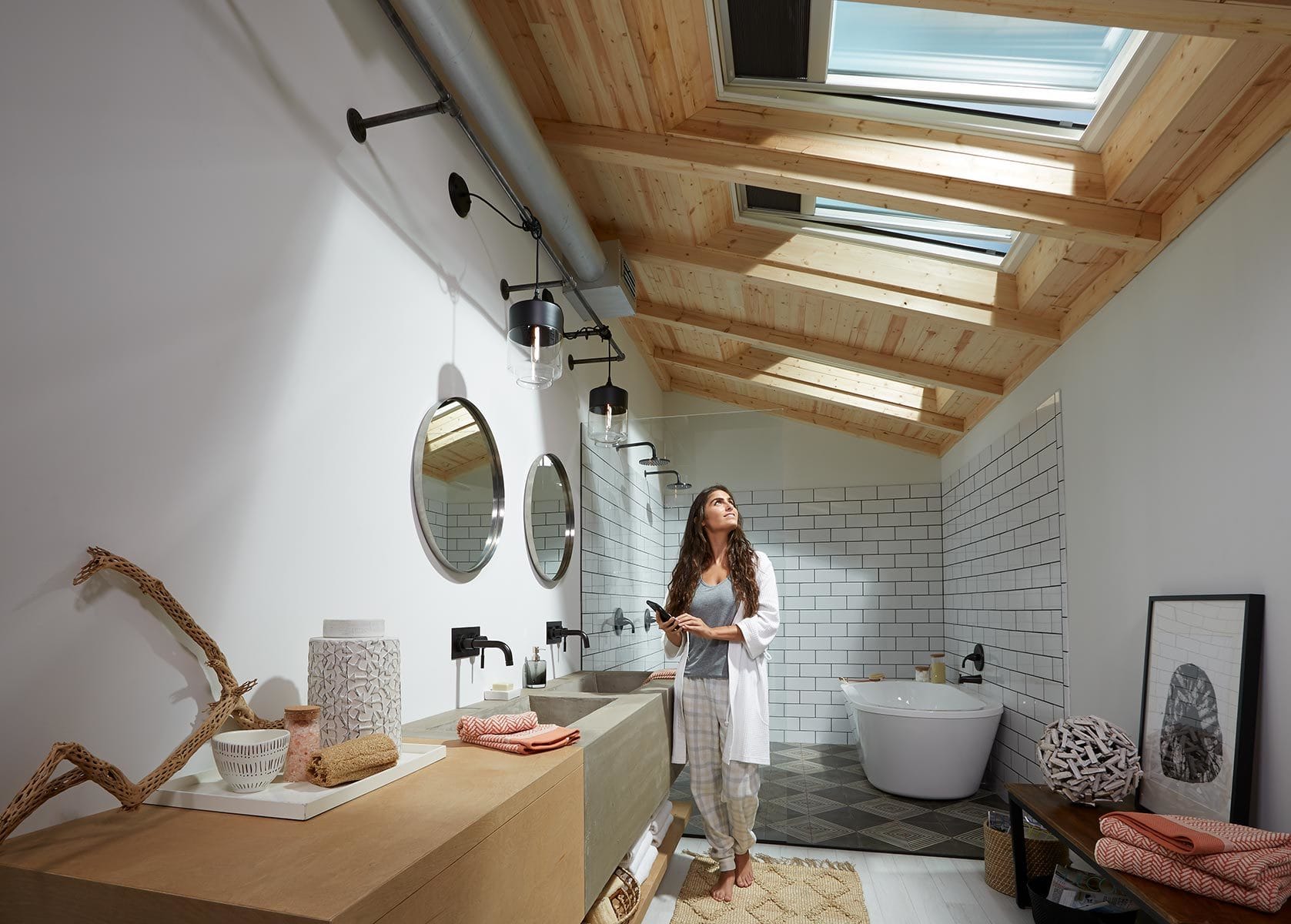 Finally, we have to talk about bathrooms with skylights. In these cases, they are usually smaller and come to fulfil the function of giving light and, in some instances, ventilation. It is widespread for bathrooms to be surrounded by other rooms, and it is not possible to open a window in any of its walls. It is essential to bear in mind that it will be necessary to have some type of curtain in certain parts of the house in case of having a skylight. That would protect us from the sun and achieve darkness, as is the case in the bedrooms.
Different Models to Choose a Skylight
To choose a skylight correctly, you must keep in mind some parameters. Today we will refer to them. First of all, we should know that it is an excellent option for those who want to take advantage of natural light. Experts consider that you can get up to 30 per cent more natural light than classic vertical windows, thanks to them. From a design point of view, they allow you to make the room appear larger. You can find different models that will adapt to any style of ceiling or ceiling.
 When it comes to roofing windows or skylights, it can be linked to the different styles. For example, ventilation skylights are the most used in rooms such as the kitchen and bathrooms. In addition to providing more light to the environments, their ventilation will give an upward air current. There are different ways in which skylights work: one of them is that temperature sensors control them, by remote control, with electrical wall switches, with manual cranks.
Those fixed skylights are only used to get more light. These are ideal for second floors, lofts or other rooms that require more lighting or enjoy the landscapes. Styles and sizes vary from rectangles to domes. The acrylic skylights are designed for utensils, rooms, garages, workshops or wherever most important functionality rather than aesthetics. One of the newer models is the tubular skylights. Their size is smaller; they are used in places where standard skylights do not fit. If required, a skylight can be installed in hallways, bathrooms and even in a closet. Even the smallest models let in a lot of light. The way to install it is pretty similar in most models.
So, what did you think of the proposals? If you are starting to build your house or about to go into renovations, you may want to consider this marvellous feature. Homes with skylights will always have enough light, and that's great. If you're looking for elegant and sleek skylights, Roof Fix is your go-to place! They are one of the leading skylight providers throughout Victoria, with the very best in contemporary design!