XXL furniture, dark colours, poorly optimized corners… Designing a small space without the slightest decorative faux pas requires some wise advice and mistakes to avoid. Here is the list of blunders to avoid in furnishing a studio or a small apartment successfully.
It's no secret that designing a small space is not an easy task. Constrained by square meters and luminosity, small living spaces such as studios or apartments give their happy tenants and owners a hard time. To apprehend life in these cramped spaces, you must avoid a few mistakes. What are they? In bulk: opting for imposing furniture, betting on dark colours, overloading the room with small decorations…
How to Properly Furnish a Small Space?
How to arrange a small space without the slightest faux pas in decorating? There are several options depending on your budget. To renovate an old studio or a small apartment, the first solution is to call an architect to create a customized layout to optimize the smallest corners of this small complex surface. If the small area does not require significant work and the budget is insufficient, you should focus on space-saving decorating tips. Among these: are modular furniture, light colours, lights galore, and well-chosen colour touches.
Discover the mistakes to avoid and great decorating ideas when furnishing a small area.
Mistake N°1: Bet on Xxl Furniture
You don't need to be an expert to know that large, imposing furniture and small spaces don't mix well. So goodbye XXL sofa and maxi wardrobe; make way for practical and, therefore, small furniture to fit out two spaces in one! To arrange a small space requires a good eye (and a good meter) to adapt the size of the chosen furniture to the available space. Sizes that coordinate with each other, no question of accompanying the small sofa with a large table, a question of common sense!
Mistake N°2: Forgetting About Modular Furniture
Modular furniture does not always have a good press, and the small spaces restore their reputation. Sofa-bed, modular table, wall unit: this convenient piece of furniture with a double function is a real ally to arranging a small space with finesse. Unlike a classic piece of furniture that has only one role and clutters the area, modular furniture has several missions. It can evolve daily according to the needs of the inhabitant. It would be wrong to deprive ourselves of it!
Mistake #3: Opting for Dark Colours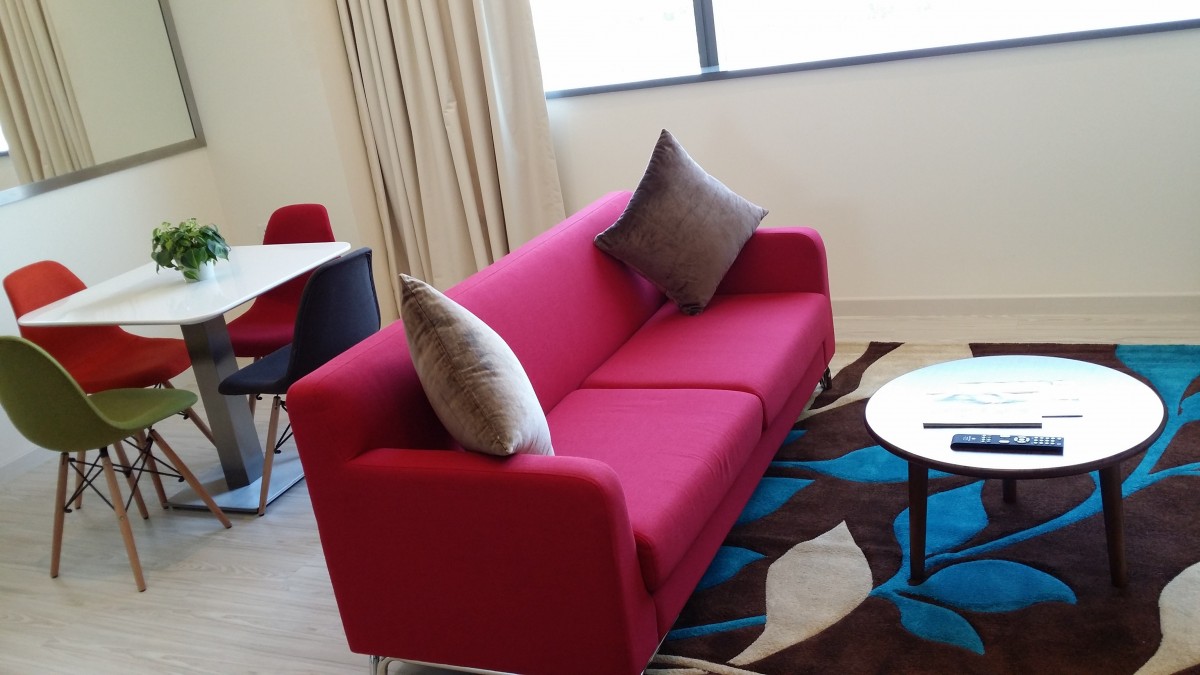 We can never repeat it enough: colours are almost as important as the furniture chosen for an interior. And yes, in addition to showing a personality, the colours used in a living space are natural partners in daily life. In a small space, it will be better to avoid multiplying the use of dark colours on the walls as on the furniture. Unlike light colours, dark colours do not have the essential quality of enlarging the space. So make way for white walls, accompanied by small, softly coloured furniture!
Mistake #4: Not Optimizing Every Corner
The quest for extra space must, at all costs, guide the design of a small area. An unused space in the attic, a cramped alcove, under a staircase: the smallest space in this small area can be used for storage or a decorative corner. An optimized alcove at the head of the bed, a series of shelves to occupy a small niche, and an office corner under the stairs: think tailor-made and optimized at all costs!
That's it for furnishing your small space. Remember to share your experience in the comments below. Hopefully, this post will be helpful to you.