Whether you're restricted in terms of budget or a shortage of ideas, designing a small balcony can sometimes be challenging. However, a little creativity can help transform your outdoor space into a new one without unnecessary expenses. Here are some inspirational tips to help you remodel your balcony brilliantly!
When redesigned to appear more spacious, a small balcony can be a great decorative feature of any home. Several options are available to help you get the most out of your outdoor space and appreciate the good weather.
1) Buy Smart Furniture
From voice-controlled garbage cans to coffee tables that can chill your drinks, several pieces of furniture can both make your life easier and stop you from wasting space. Moreover, you can also slide corners or custom-made furniture against the wall discreetly when not in use. If you want to be more creative, don't be afraid to look for the rare pearl, even if it means customizing the furniture to enhance the decoration.

2) Blend Different Styles for a Unique Ambiance
Be imaginative! Whatever your decorating project is, mixing different styles and types of objects can give character to your décor. For instance, you can play with the contrast of colours and patterns or combine modern designer furniture with vintage ones.

3) Add Greens to Your Balcony Deco
Do not miss out on plants and floral arrangements. A touch of green is always welcome anywhere. Not only are they very eye-catching, but they will also add clarity and depth to your exterior. Choose falling plants such as the ivy vine, wisteria, devil's ivy or Ceropegia Woodie. They will instantly help brighten the space and bring a smile to your face!
4) Design a Smart and Cozy Meal Area
Avoid procrastinating and concentrate on what's most essential for your day-to-day life: a lazy corner with footstools on the floor or a small area for a nice lunch in the warm weather. For such situations, XS size balcony furniture will be ideal!

5) Set up a Parasol for South-Facing Balconies
If you have a south-facing balcony orientation, sun exposure is crucial. Were you aware that there are specific sunshades for balconies? Thanks to their size and cut-out, they can seamlessly fit into the rectangular and narrower surface of terraces with traditional designs. Be sure to research it or even try them out to make the best choice!

6) Light up Your Balcony for Beautiful Summer Evenings
On summer evenings, the weather conditions are usually delightful. Spending some time outside on the balcony with your loved ones can thus be amusing and refreshing. However, it might be somewhat irritating to be in the dark! Consider installing outdoor lighting, such as LED lights, so that you may enjoy a pleasant time with family and the fresh air until late at night. Besides, who doesn't love sitting on the terrace steps and get immersed in the silent thoughts of the night? The warm colour and temperature of those light will instantly make such moments more gratifying!
7) Opt for Shelves Instead of Placing Big Pots on the Ground
Unnecessary furniture and objects should not be piled up on a small balcony. In this way, the floor space will be freed up and aesthetically create an enlarged space illusion. Therefore, instead of having big flower boxes on the ground, install a high shelf at the end of the balcony to highlight its length and create a little garden with lots of plants.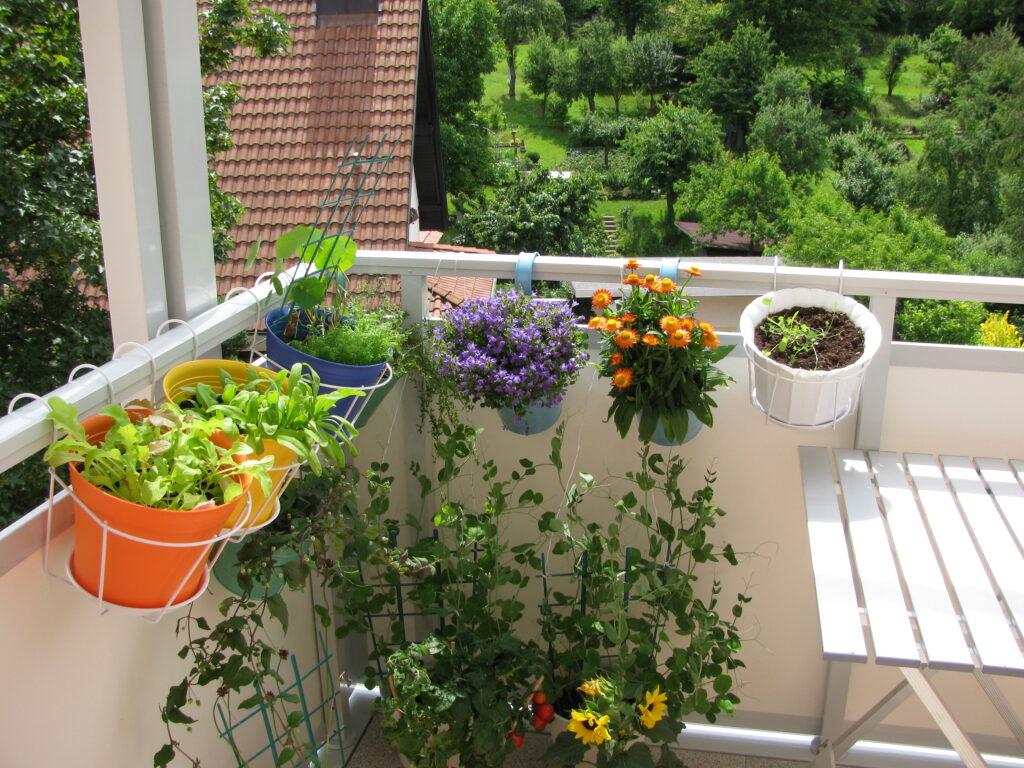 Let us know if these few tips have helped you and share yours with us in the comments below!