Summary
Step 1: Think about the style of your patio
Step 2: Think about the patio floor
Step 3: Give personality to the patio walls
Step 4: Planting your patio
Step 5: Layout your patio
A patio is a privileged, intimate location in the open air surrounded by walls. Depending on your preferences, you can design it as a natural garden or a peaceful space in the middle of the house.
It will be a wonderful setting for gardening, sunning, reading, and eating.
This article will tell you how to personalize your patio and make the most of it.
1. Think about the style of your patio
Think about the style of your patio before you start planning and decorating. This will make it easier to harmonize floor and wall coverings, furniture and plants.
Here are a few suggestions:
– Vegetated patio: this is a patio treated like a real garden in the heart of the house, dressed with climbers and planted with shrubs. Imagine it in a floral or a tropical jungle version, depending on your tastes.
– Contemporary patio: it is characterized by a strict organization and materials such as concrete, metal, and mineral in all their forms (stone, slate, pebbles). An alternation of wood/mineral is also welcome.
– Zen patio: it is a minimalist patio, a source of serenity at the heart of the house. Wood, white gravel, Japanese maple, a few rocks… it doesn't take much more than that.
– Mediterranean patio: it can be imagined with walls painted in pink ochre, large jars are overflowing with colourful flowers, a fountain, a parasol…
– Moroccan patio: various shades of blue, zellige mosaics, a central star-shaped pool, some exotic-looking succulents… you are transported to the other side of the Mediterranean.
2. Think about the patio floor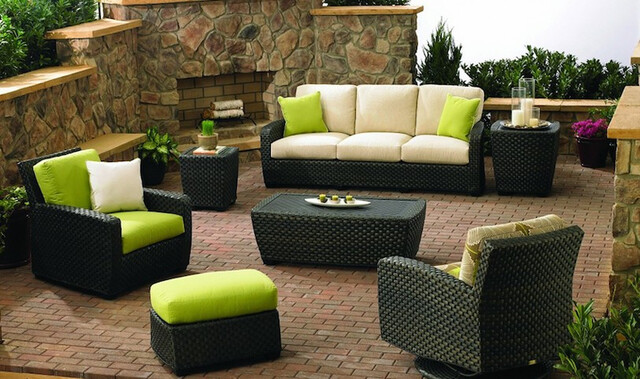 Your patio floor should be as practical as it is decorative. There are many materials to choose from, depending on the style you want. For instance:
– tiles: the whole range of outdoor tiles is possible, not forgetting terracotta tiles, cement tiles, which are very fashionable at the moment, and imitation wood tiles;
– paving in slate, natural stone or reconstituted stone;
– concrete slabs: they are particularly suitable for a contemporary patio. In this case, choose them in size XXL;
– paving stones: another possible option for a vegetated patio or a Mediterranean patio;
– wooden slats: ideal for a warm floor, which can be suitable for a small patio garden and a contemporary or Zen patio.
Note: it is also possible, especially for contemporary or Zen patios, to combine several materials, for example, by treating one part of the floor with slate and the other with wood, or one part with wood and a central space or side strips with calade (stone carpets).
When you have your patio floor made, think about a few practical details:
– If you wish, you may want to set aside a reserve of soil to facilitate future planting, for example, two long strips of soil at right angles on two sides of the patio or a square reserve of the earth in the middle of the deck.
– If necessary, have light spots recessed into the ground.
3. Give personality to the patio walls
A patio is, by definition, surrounded by four walls. Preferably, treat them as decorative elements in their own right, depending on the style you want to give to the whole:
– walls painted in the spirit of your decoration, for example, a single wall painted in intense colour for a contemporary patio;
– walls clad with wood siding;
– rough concrete walls for a contemporary patio, which you can combine with wood-clad parts;
– a wall in zelliges and the other white for a Moroccan patio;
– walls lined with trellis if you plan to have plants climbing on them; you can even go further and consider a plant wall.
4. Plant your patio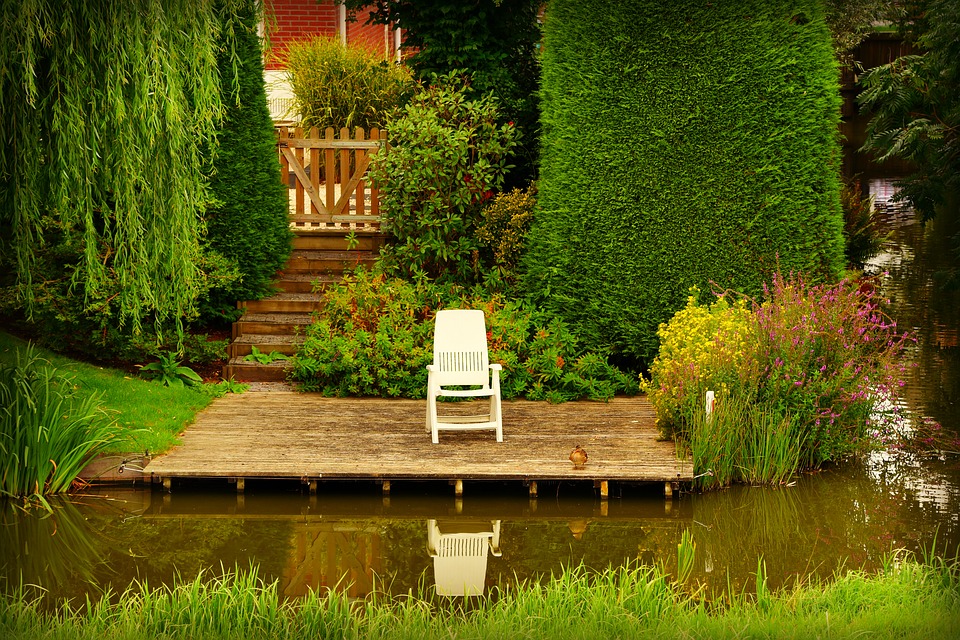 A patio offers special gardening conditions:
– Sheltered from the wind and warmed by the house's heat, it allows you to grow plants slightly outside their climatic zone or even exotic plants.
– On the other hand, the 4 walls provide shade and make the choice of plants often delicate.
So observe the sun and shade zones and the shadows cast at different times. Make a list of the plants likely to love the other areas: shade, half-shade, sun.
Here are a few suggestions:
– Shrubs:
◦ all heather earth shrubs (hydrangeas and hydrangeas, Pieris, azaleas, rhododendrons, small camellias, Japanese maples);
◦ evergreen shrubs: yew, boxwood, small bamboos;
◦ viburnums, roses in pots, ornamental plum trees or ornamental cherry trees…
Tip: A single central shrub is often an interesting option for a small patio.
– Climbing:
◦ in the shade: ivy, climbing hydrangea;
◦ in the sun: clematis, bougainvillea, jasmine.
– Perennials (in pots):
flowering perennials: agapanthus, arums, summer or winter heather, rockrose, fuchsia, perennial geraniums, lavender, sage…without forgetting the grasses (sedges, small stipas) nor the perennials, interesting for their foliage (sagebrushes, hostas, heuchera, ferns, Japanese horsetail…).
– Exotic plants: agaves, araucarias, cacti, yuccas, and even a tiny rustic palm tree.
5. Proceed with the layout of your patio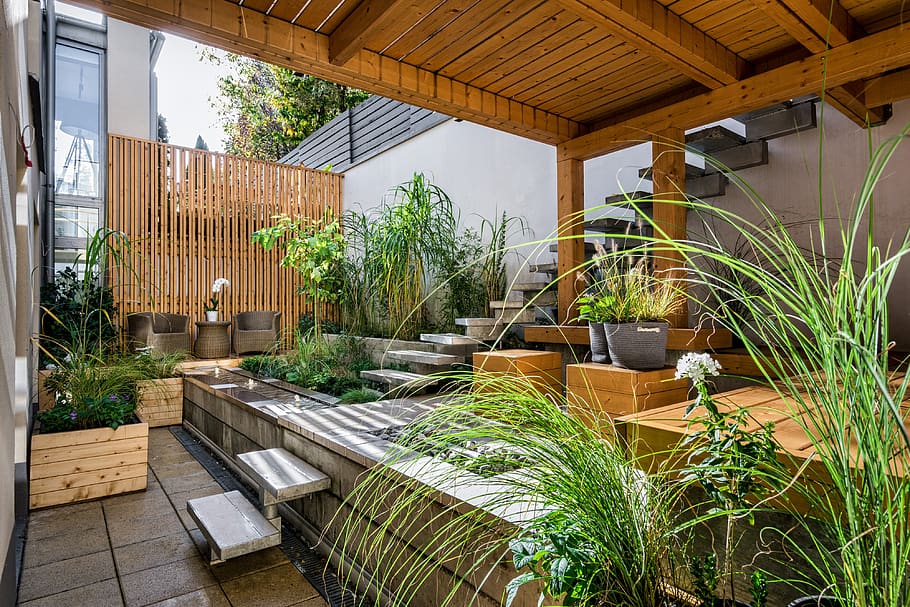 Plant containers
More aesthetic than a collection of small, motley pots, large containers will also simplify plant care by providing generous volumes of soil.
For example, plan for masonry and comfortable wooden containers, which you will complete with large, well-chosen pots, varnished jars, etc.
The accessories to consider:
– a fountain or a pond with a soothing spray of water;
– an umbrella or a veil of shade if your patio is very sunny;
– lights to illuminate the plants at night, light pots, a designer lamp…
The furniture
– Tables, pedestal tables, armchairs, chairs, loungers… choose them in style and materials adapted to the spirit of your patio:
◦ wood and wrought iron for a patio garden or a Mediterranean patio;
◦ steel and wood in neutral or solid colours for a design patio;
◦ Wood or bamboo for a Zen patio.
– Think about a hammock for a nap, a bench, and outdoor cushions for more comfort…
Hope the above 5 essential steps in decorating your patio will help you out! Remember to leave your comments in the section below and share your experience with our readers.