A roof is made up of several elements superimposed and interlocking with each other to form an integral whole. The roof frame supports the insulation materials, the roof screen, the ventilation and the roof space, followed by the roofing, on which the water drainage system and openings are located.
There Are 2 Types of Roof Structure for a Pitched Roof
The framework contributes to the stability of the whole construction and supports the roof covering. It is, therefore, the framework that will determine the shape of the roof, its size, its slope, but also the possibility of creating habitable attics.
There Are 2 Types of Frames:
– The Traditional Framework:
◦ generally built out of solid wood, it is most often used in old houses;
◦ it is made to measure during construction;
◦ it offers the advantages of being able to accommodate habitable attic space, different forms of pitched roofs, roofing materials, and openings.
– The Truss Frame: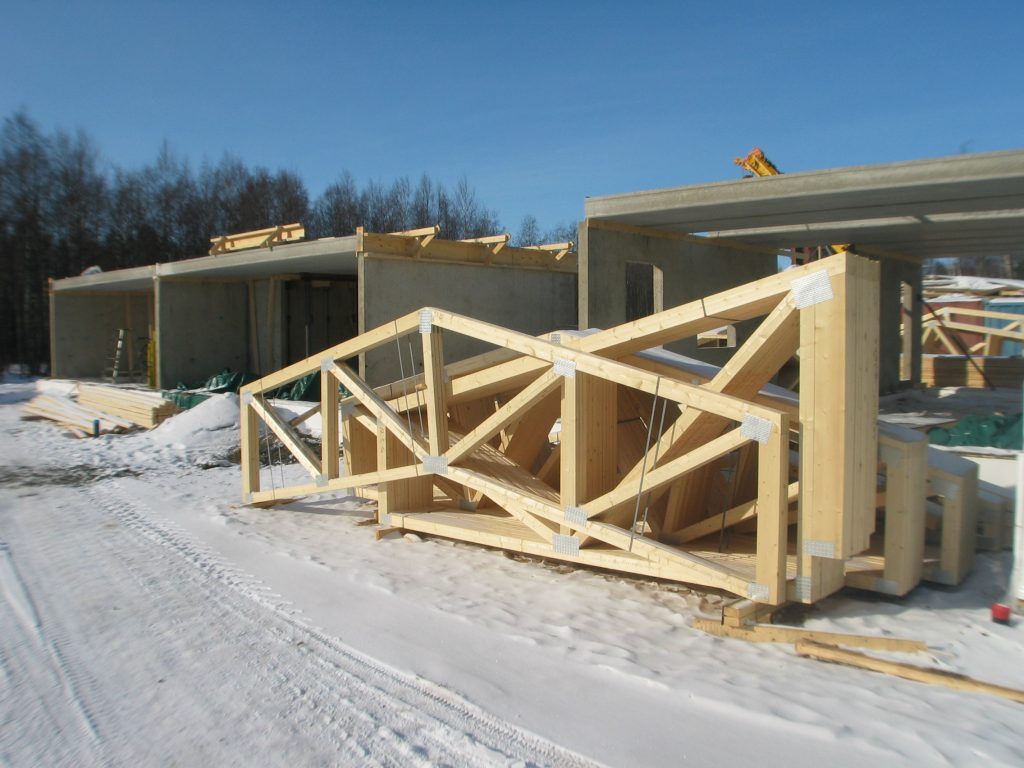 ◦ it is an industrialized framework, made up of elements prefabricated in the factory (the trusses), then assembled directly on-site;
◦ not all trusses allow the creation of habitable attic space, only the false and roll-up trusses offer this possibility;
◦ industrialization and prefabrication tend to standardize roof shapes: not all sloping roof shapes are always feasible.
Roof Frame Materials
The framework is generally built-in wood, solid when it is a traditional framework, but it can be made with various materials:
– solid wood;
– glued laminated wood;
– metal;
– composite beam, usually metal in the centre and glued laminated wood around it;
– reinforced concrete.
When designing and constructing the frame, the chimney flue and openings must be provided for: an opening in the frame (the hopper) is created to receive the structure of the opening or to allow the chimney flue to pass through.
Roof Structure for Flat Roofs: Calculating the Loads
The installation of a flat roof structure requires a good calculation of the permanent and point loads. The calculations imposed by the choice of a flat roof structure must thus take into account:
– the distances between supports;
– the weight of the future roof;
– the possible overload (rain, snow).
The calculation of the loads for the flat roof structure depends on the use that is made of it. It is different depending on whether a flat roof is desired:
– accessible, so that it can be used as a terrace;
– inaccessible, except for maintenance.
A flat roof can support between 100 and 200 kg per square metre: the gravel that makes up the terrace only represents a maximum of 50 to 70 kg per square metre, to which must be added insulation, etc.
If you wish to get in touch with a roofing professional in Toronto, GOT IT COVERED ROOFING & RENOVATIONS is a trusted and reliable roofing contractor with over 10 years of industry experience. They will be able to help you out. And, remember to share your experience with our readers in the comment section below!