Walls are important in making or breaking the look of a room. They are enhanced and become alive either through a paint job or installing wallpapers. In recent years, wallpapers have been gaining popularity across the globe because of their aesthetic aspect.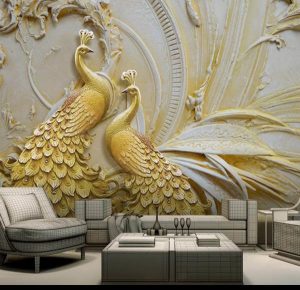 What to remember when buying wallpaper?
• Measure before you buy
• Consider material choice
• Order samples if you need to check
• Use a wallpaper calculator before you click buy
• Buy from a company that is reliable
• Think about the cost-saving plans
It's of the highest importance to pay close attention to the wallpaper instructions when installing them. There are different wallpapers and these are available in different finishes.
• Vinyl Wallpaper
Most widely used papers on the market and it can be installed in any room. Vinyl wallpapers are very easy to install, easy to remove and washable. The new revised version wallpaper is safe, free of asbestos and will not cause asbestos exposure. Solid vinyl is often pre-pasted that's why it is easy to apply. They come in different types, such as solid vinyl, fabric-backed vinyl, paper-back vinyl and vinyl-coated.
• Embossed or Textured Wallpaper
These are designs pressed onto a paper backing creating a raised and textured effect. The embossed designs tend to cover up for any imperfections on the walls. It is easy to install, fairly easy to remove and washable.
• Lining Wallpaper
This paper is applied to bare walls or ceilings in preparation for painting or papering with other decorative paper. Lining paper is used to cover minor imperfections on a surface before painting it or hide another strong color.
• Flock Wallpaper
This type of wallpaper has a fuzzy velvet texture and are printed on a paper backing. The flock designs create a three-dimensional effect. This wallpaper is delicate and not washable. It is very tricky to install and remove.
• Foil Wallpaper
Metalized papers are very attractive. These reflective patterns can help lighten up a dark corner. The metallic finish enhances all wall imperfections. Point to remember: all walls must be in a very good condition before installing Foil wallpaper.
• Paper-Backed Foil Wallpapers
This type of wallpaper is very delicate to install and hard to remove. Foil wallpapers are mostly used in kitchens and bathrooms. Metallic finish creases easily and wrinkles, that's why extra care is needed when pasting and installing.
• Non-woven Wallpapers
This wallpaper is made of a special blend of natural and synthetic fibers. Non-woven wallpapers are washable and breathable. This is the most user-friendly wallpaper available on the market today.
There are lots of wallpapers, so check out the next post soon!